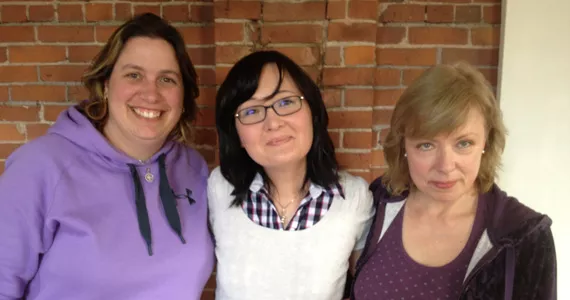 Fierce Ink's Colleen McKie and Kimberly Walsh love books, quite clearly. The PEI-based McKie is a freelance writer and editor and Halifax-based Walsh is a freelance communications strategist who founded All Rights Reserved literary magazine and both women are currently involved with bringing BookCamp to Halifax (November 9).
And in their unbridled love for literature, they were able to see what was missing---an Atlantic publishing house that specialized in young adult genres.
"It came about from a conversation Kimberly had with children's author Sheree Fitch. They were chatting about young adult books and the fact that while there are some amazing east coast publishing houses, they tend not to publish young adult genre fiction---urban fantasy, speculative fiction, historical fiction and paranormal," says McKie. With Fitch's encouragement McKie got a text the next day from Walsh asking if she wanted to start publishing. "It took me about two seconds to say yes," says McKie. "We started planning right away and launched our first novel September 2012. We also started publishing our Fierce Shorts that September."
It makes sense that texting was the mode of communication, both Walsh and McKie are passionately web-savvy and require their authors to know their way around the internet as well. "As a book lover, I get all giggly when an author I adore Tweets me or chats with me via Facebook. I really think it adds another level to the reader's experience with a book," says McKie. "It offers a connection between author and reader that just wasn't available before the birth of social media."
But aside from tightening up that Twitter game, Fierce Ink is part co-op, part author collective, only expecting their authors to produce quality work---they'll take care of the rest. "We wanted to take the best from self-publishing and traditional publishing for our business model and once we looked at our options, a co-op just made the most sense. We're pretty grassroots in our approach to a lot of things, including working with local business for promotions, and a co-op fits in nicely," says McKie. "And no, our authors don't have to pay us to have their books published with us."
Upcoming projects include regular readings from their roster of authors, the upcoming launch for Game Plan (November 19, details TBA) and planning their 2014 release schedule. McKie optimism hasn't faltered since the day of the fateful text: "The publishing industry is changing so much and so fast these days that it's an exciting time to be in the business."