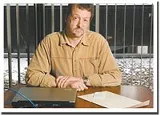 Yesterday afternoon,
Film Nova Scotia
and
Telefilm Canada
had a bash at the Carleton on Argyle Street to celebrate their new initiative:
The First Feature Project
provides $50,000 from both the provincial and federal film funding bodies, plus an extra $10,000 for a mentor and marketing, to shoot a more-than-75-minute feature film by a director/writer/producer team that has only made shorts. It's a first-time funding collaboration of this sort by Film NS and Telefilm's Atlantic office. On the up side, this will give some keen Nova Scotia filmmakers a shot at making a long form feature. On the down side, a $100,000 feature film is a student movie, any way you slice it. No professional, experienced crew would be able to work for the kind of salary these funds would pay. However, when announcing the initiative at the Carleton yesterday, Film NS president and CEO Ann MacKenzie said the project was designed so everyone would get paid and for it not to be a call-in-a-favour kind of production. "I think the biggest concern was the lack of consultation," says Gary Vermeir, business agent for IATSE 849, the union of Motion Picture Studio Production Technicians. He was at the launch with Tim Storey, business agent for the Directors Guild of Canada, and both were taken aback by the announcement. "Just springing such a program on the industry, the unions end up in a bad position," says Vermeir. "Filmmakers are going to want to work with the keys,"---the experienced on set technical crew---"the keys are going to want a contract and we'll go to the producer with this tiny amount of money to spend. We're trying to negotiate some kind of reasonable rate of pay and suddenly we're being painted as the bad guys and we're just doing our job." Storey suggests that a feature film project at that budget is simply unfeasible, with feature budgets of $1 million struggling to be realized, while referencing other government-funded programs in Atlantic Canada---such as the Newfoundland Independent Filmmakers Co-operative short film program Picture Start, a partly Telefilm-funded deal---that really work. "They're paying over minimum wage at a full-crew complement," says Storey of the NIFCO project. This is certainly not the first time the film unions, looking to represent their members, and the government film-financing institutions have encountered communication difficulties---or flatly disagreed---over what's best for the local film and television industry, though Vermeir gives Film NS points for hearing his and Storey's concerns and immediately scheduling a meeting to discuss The First Feature Project in the weeks to come. "We're slowly training them to think of us," says Vermeir. "They are in the business of facilitating production dollars and talking to producers. But I think it's sometimes forgotten that they're trying to create Nova Scotian jobs, and that's us."