A large neon sign of a plump pig greets customers as they browse the seitan bacon and cashew mozzarella on display at Real Fake Meats. It's the new nook for those craving donairs, grilled cheeses and other comfort food classics—minus the whole meat and cheese part. As Halifax's first plant-based butcher, owner Lauren Marshall wanted to poke fun at the irony of not using animal by-products. A throwback to mid-century butchers, a black rotary phone hangs above the cash ready to take orders for charcuterie trays and food boxes featuring a variety of fake meats and cheeses, but the only chopping block in this butcher shop is the checkout counter made of thick wooden slabs.
Marshall helmed the kitchen at EnVie for two years and worked as a chef for more than a decade before that. After taking a much-needed break to study yoga and teach plant-based cooking classes, she and her friend Brandon Levesque co-founded Real Fake Meats last spring. Originally a vegan meat and cheese subscription service, the inspiration for their food boxes came from crafting binge-worthy fake donairs for Levesque's birthday, as well as fake fish and chips for one of Marshall's cooking classes.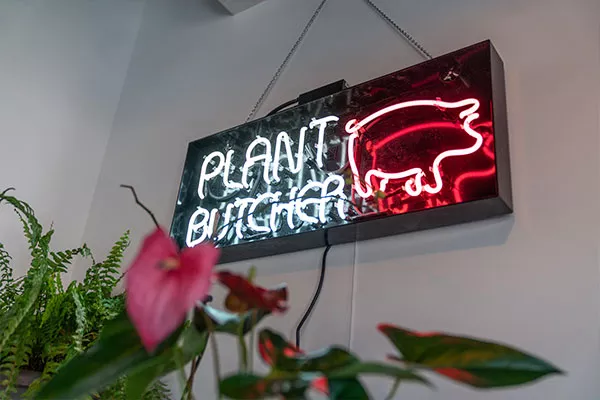 "They were both so amazing! I wanted to share them with people," she says. Within 24 hours of launching the food box service, they sold more than 75 orders. "We realized that the demand was much higher than we could keep up with. Someone drove from Fredericton just to pick up a box." In June, she decided to bite the bullet and expand the business. After months of building Real Fake Meats from the ground up, the butcher shop opened its doors this week.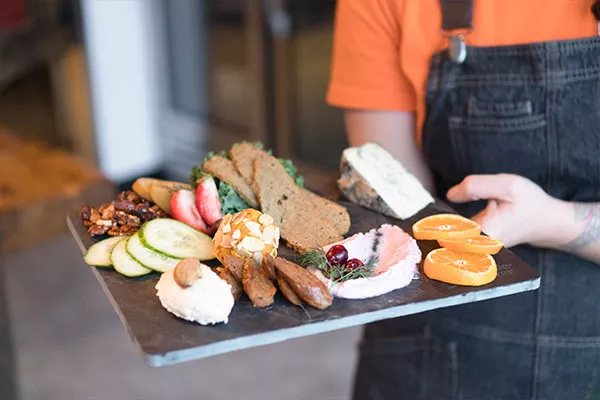 To connect with customers, Marshall chose to have no walls separating the kitchen and the storefront. The only barrier is a small set of swinging saloon doors, which add to the old-timey butcher shop ambience. "I want people to see what we're doing and see what ingredients we're using," she says about the open concept. This interaction with customers is something she says doesn't happen very often as a chef. In the past, she says, she often remained behind the scenes.
The sleek industrial steel kitchen is a sharp contrast to the store's wooden counters and panelling. A row of stools is lined up against the window-front, inviting people to linger. "We have food and drinks if people want to stay and hang out," Marshall adds. Alongside lattes and Americanos brewed from Java Blend's North Ender roast, Real Fake Meats also offers a simple menu of nostalgic meals, such as tomato soup and grilled cheese, donairs and chicken salad sandwiches.
As Real Fake Meats joins Halifax's family of local vegan businesses Marshall is excited to provide people with more dining options. "All these places help one another," she says. "We co-exist and support each other." In order to offer something for everyone, Marshall is dedicated to providing gluten and soy-free options when possible. "These people want comfort food—just like everyone else—so I'm continually playing around with recipes," Marshall says.
Although a working knowledge of food allergies and dietary restrictions is becoming increasingly popular, it can still be difficult for restaurant-goers to find affordable places that cater to their specific needs.
"When I grew up, almost every night of my childhood we ate donairs or pizza," Marshall says. "All the stuff we offer here is kind of like that type of
food,
because I want people to experience that physical comfort. It's also a really good transitional
food,
because it shows people that they don't have to miss their bacon or their donairs. They can have it all, and still be vegan or vegetarian or whatever."