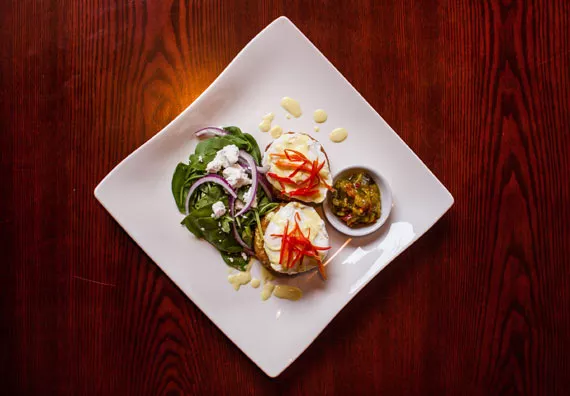 This recipe will serve four to six guests—the fish cakes can be made smaller or larger depending on individual preference.
Fish Cakes
500 grams salmon fillets
500 grams haddock fillets
½ cup Panko bread crumbs for mixture
2 tbsp Italian parsley, finely chopped
1 tsp jalapeño pepper, finely chopped
¼ cup chopped green onion
2 limes, zested and juiced
½ cup mayonnaise
1 large potato
1 cup onion, finely chopped
1 tbsp butter
salt and pepper to taste
flour, egg and Panko bread crumbs for breading
Quick Hollandaise
4 egg yolks
1/2 lemon, juice and zest
1/3 lb butter
1 tsp grainy mustard
salt and pepper
dash of tabasco
Spicy Citrus Aioli
1 cup mayonnaise
1 tbsp lime juice
1 tbsp lemon juice
zest of one lime and one lemon
1/2 tbsp chipotle sauce
salt and pepper to taste
---
Method
Fish cakes: Poach salmon and haddock gently in water, season water with bay leaf and salt. Cook until fish flakes, without overcooking. Let cool and then flake with a fork. Fish can be a little chunky.
While fish is poaching, cook potato and mash. Saute onions in butter until translucent—do not brown, but ensure they are well-cooked.
Combine all ingredients except fish and mix well. Fold fish in gently and form two- to three-ounce patties, using a scale or a ring mould. Put fish cakes on a baking sheet and place in freezer until firm. (May freeze completely for up two weeks, bread while frozen and then thaw for 20 minutes before cooking.) Bread the fish cakes using the three-step method of breading: flour, egg wash and bread crumbs.
Lightly grease sheet pans and bake fish cakes for approximately 20 minutes until golden brown and heated through.
While fish cakes are baking poach eggs and prepare a salad of your choice to accompany.
Place fish cakes on warmed plates and top with poached eggs. Drizzle with Hollandaise or citrus aioli.
Quick Hollandaise: Melt butter in microwave and let cool slightly. In a blender combine egg yolks and lemon juice, with motor running drizzle butter into yolk mixture to make a frothy emulsion. It should be slightly thick and not runny. Add mustard, lemon zest, salt, pepper and tabasco. Taste for seasoning.
Store at room temperature for up to two hours.