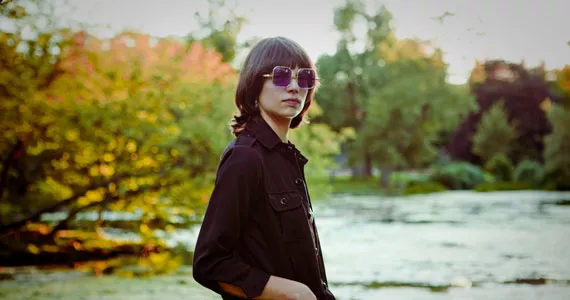 In a city of artistic jacks-of-all-trades, Jess Lewis is working to be the queen. With credits in technical theatre and performance art accompanying collaboration credentials in a number of Halifax bands (Brent Randall and his Pinecones, Hymm, Church of Satan, The K-Tels), Lewis is becoming more bride and less bridesmaid.
Of course, it wasn't always this way. Lewis had been working on "bits and pieces" of songs but shyness and stage fright stopped her from going any further with her work, until Lisa Lipton of i see rowboats had a February show and gave her an ultimatum. "She said, 'We're playing this show. You have three months to prepare. Get it together.' And I was like, 'Ohhhh, OK.'
"And it was fun, of course," she says. "It gets easier and easier every time."
Her pseudonym, Cactus Flower, is borrowed from her favourite movie, a Goldie Hawn rom-com from the 1960s, and the twee, referential name makes sense; her solo work sounds like a sweeter version of early Pinecones, all toe-tapping jaunt with her honeyed voice atop folksy acoustic strumming. But her obstacle now isn't stage fright so much as time; while she's enjoyed her other artsy credentials, but they've denied her opportunity to work on what she loves.
"If I could only do one thing, it would be music...but I haven't had much time for it," she said. Her last few months have been a whirlwind of Berlin trips, Atlantic Film Festival work and theatrical show tours. "Work kind of gets the best of me, unfortunately."
She's got some time now, though. Her upcoming shows will be her first performances in Halifax in months, "since the springtime," she estimates.
The last time The Coast spoke to Lewis, she promised a Cactus Flower album in 2012. "I just need to do it, to dedicate some time to get it done. And I guess if it's in print, 2012---I guess I have no choice but to make it a reality," she says, laughing. --Adrian Lee
Cactus Flower
w/Joe Grass, Jenny Berkel
Friday, January 27, 9pm at Eyelevel Gallery, 2063 Gottingen Street, $8
w/Kev Corbett, Mary Milne, Becky Siamon
Saturday, January 28, 8:30pm at The Bus Stop Theatre, 2203 Gottingen Street, $15