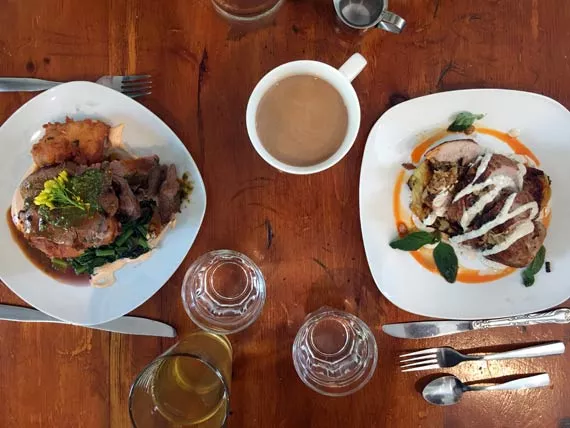 Summer sunshine means the bumpy tangle of country roads in Hants County is dotted with rust-tinged yard sales and rickety signs advertising fresh eggs and homemade jams and pickles. On our drive up to Summerville we pass cows leaning lazily into the wind-rustled grass and horses, bored and dozy in the sunshine, serenely staring at the straggling cars that slowly wind by, the flicker of a tail or an eyelash their only sign of disruption.
Block Wharf Road is one of three main intersections on the Glooscap Trail that make up the bulk of Summerville. At the end of the road is Hobarts Beach, a pebbly strip of sand at the mouth of the Avon River. Not far off, in Burntcoat Head Park where the Basin sloshes into Cobequid Bay, chef Chris Velden has dinners on the ocean floor at low tide, surrounded by seaweed and ruddy cliffside.
When he isn't trudging through tidal pools and tempting Poseidon's wrath, Velden is the chef-owner of The Flying Apron Cookery and Inn, a charming bed and breakfast on the Block Wharf Road intersection. There's a folksy charm to the inn: Lush bushes and flowering trees surround the entry to the house, which is a bright, clean white with a sage green gable that is itself framed with simply carved filigree shapes.
The larger part of the building houses an inn with a cozy reading room, a gallery and a small country store with sauerkraut, mustards and jams. The restaurant is airy with the mismatched wooden charm and bright colour of a sprawling country kitchen.
Lunchtime is very low-key, with only a handful of customers on this day. Our server bounces between the tables with smiles and laughter, constantly engaging and incredibly affable; she seems only to be concerned with everybody being comfortable and relaxed.
She praises the ingredients from nearby farms, like the lamb, which is from Ironwood Farm, an organic farm with sheep, pigs, cattle, vegetables and blueberries. Velden has always been fiercely supportive of sourcing local ingredients: In his time as chef at Ryan Duffy's in Halifax, he had a small apiary and a garden on the restaurant's roof on Bedford Row. Now in the country, he sources from farms and fishermen just a few kilometres away, focuses on local wine, beer, coffee and juice. And chickens cluck and preen in the garden by the patio.
The lamb roast ($19) is more than a touch overcooked, the edges toughening into slight stringiness. A puddle of jus and what seems to be a chili mayonnaise—it's hard to tell as the flavours become an absolute jumble with the arugula, walnut and parmesan pesto that crowns the plate—manages, though, to make up the moistness. A pile of wilted organic spinach is a hearty foil to the sweet pops of corn in airy, crisp fritters.
Another hearty plate features a fan of thickly sliced, glistening pork loin ($19) stuffed with a sweet, salty, slightly sour mix of apple, pancetta and sauerkraut. A creamy toasted caraway sauce gives a whisper of citrus and nutty richness to the plate. Accompanying chapalele, Chilean potato dumplings, are firm, but springy. The edges are crisp from frying, and the insides have a pleasant chewiness. I am mad for them and quickly trade some of my fluffy fritter for more of the starchy croquette.
From the dining room chalkboard we order the rhubarb pavlova and bread pudding for dessert. The pavlova is a dusky cloud of sugar, tinged the lightest of gold with a subtle caramel flavour that sets the bitter-sweet rhubarb on top alight. The dense bread pudding is wintry, weighted with apple and the woodsy scent of cinnamon. It's good, but I regret straying, even for a moment, from summer. One thing I don't regret, though, is coming to Summerville.
---
The Flying Apron Cookery & Inn
3 Summerville Wharf Road, Summerville
Tue-Thu 11am-8pm, Fri-Sat 11am-9pm
Sun 10am-3pm (brunch)