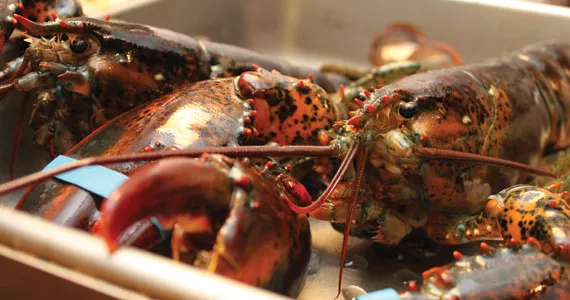 June 28-July 1
Privateers Days
Two words: Rum run. Step back in time in Liverpool and see what life would be like in a Harlequin historical romance. Complete the experience with dinner at Lane's Privateer's Inn (27 Bristol Avenue, 354-3456). Or throw off the shackles of the past and find what are presently the best clams in Nova Scotia by heading a little further out to Hunt's Point where you'll find Seaside Seafoods (6943 Hwy #3, Hunts Point, 683-2618). privateerdays.ca
---
July 6-8
Pictou Lobster Carnival
Go to Pictou. Eat a lobster. Sit in the beer garden. At this point you're already having the best weekend, but this carnival also has boat races, a parade, a mid-way and an antique card show. It's basically an advanced course in being Nova Scotian.pictoulobstercarnival.ca
---
July 13-14
Fox Mountain Smokin' Blues Fest
So you're going to Aylesford. Why aren't you going to the zoo, dummy? Well, whether it's a bluesy growl or a lion's growl that brings you out that way, you should probably stop by Jonny's Cookhouse (4278 Hwy #1, Berwick, 375-3033) for one of their juicy burgers and a soft-serve. Then take the long way home and pick up some jam at The Tangled Garden (11827 Highway #1, 542-9811). valleyevents.ca/event?id=10959
---
July 13-22
Peggys Cove Area Festival Of The Arts

This festival will run the road from Peggys Cove to Upper Tantallon, featuring artwork from the various woodworkers, painters and potters in the area. Drop by Dee Dee's Ice Cream (110 Peggys Point Road) and amble around on the rocks before setting off in search of great art. Then keep on driving until you find yourself in Hubbards and finish off your weekend wet, hot, Canadian style at the Shore Club's dining hall (250 Shore Club Road, Hubbards, 857-9555) for a lobster dinner. facebook.com/pages/Peggys-Cove-Area-Festival-of-the-Arts/182573615121210
---
July 21
Tastes Of The Valley
You can't throw an apple core without hitting an amazing farmers' market in Wolfville (24 Elm Avenue). Noggins is great, and Hennigar's makes those homemade corn pops which are basically worth their own trip, but it's the downtown market that shouldn't be missed. That farmers' market is putting on this lovely celebration where great chefs will be offering tasty bites for $3 a pop. Don't eat until you get there!wolfvillefarmersmarket.ca
---
July 28-29
Lunenburg Wooden Boat Reunion & Regatta
Go with your friend John B and find a sloop. Drink a Schooner by a schooner. Your Instagram opportunities are basically endless! The UNESCO Fresco is seriously a beautiful place to wander around on a sunny day, and some of the best food in Nova Scotia is in Lunenburg. From fancy foods at Fleur de Sel (53 Montague Street, 640-2121), to a fish fry at the Old Fish Factory (68 Bluenose Drive, 634-3333) or old timey baked goods at the LaHave Bakery (688-2908), you can't make a wrong choice.novascotia.com
---
August 3-5
Sappyfest
Sappyfest is taking place on the first weekend on August in Sackville, NB. You're all going, right? Right. Well, if you're going to hit Sackville, you should probably go to Mel's Tea Room (17 Bridge Street, 506-536-1251), the classic Sappyfest stop with cheeseburgers that make your heart skip a beat. (For more than one reason.) Call ahead and have your takeout ready as soon as you hit town. Here's the real tip to a long-haul road trip, though. If you want to get lunch before you truly leave town so you're fully fuelled for that Fucked Up show, don't bother with the Big Stop---that place hasn't been worth even a small stop in years---drive right past it and into the wilds of Enfield, until you come upon the crazy log cabin that is Curly Portables (45 Hwy #2, 883-8273). Whatever else you choose to do there, make sure you order the fried pickles and peppers.sappyfest.com
---
August 4
30-Mile Yard Sale
Winding its way through the south shore, this is a perfect day trip. You'll always find baked goods, barbecues and strawberry shortcake socials, so don't bother eating until you're on the road, unless you're seeking out fresh doughnuts at Weagles Bakery in Bridgewater (15 Victoria Road, 543-5592). And the yard sales only get bigger after this, too: the 50-Mile Yard Sale in Musquodoboit Valley is the first weekend after Labour Day and the 75-Mile Yard Sale through Hants County is August 10-12. (Dining suggestions: clams and chips at Harbour Fish & Fries in Musquodoboit Harbour (7886 Hwy #7, 889-3366), and some slices of tasty pie at Lisa's Cafe in Windsor (30 Water Street, 792-1986). lunenburgregion.ca
---
August 8-12
Digby Scallop Days
It's a long way to Digby, so you might want to drop by the market and bring a picnic lunch. You also might want to stick around overnight. Whatever you do, once you're there, just eat all the scallops you can. Eat 'em raw. Eat 'em cooked. Eat 'em all! If you're allergic to shellfish, just stop in Truro: the Dutch Mason Blues Festival is this same weekend. Go Tiki-crazy at Chow Family (344 Prince Street, 895-9256). Regret nothing.digbyscallopdays.com
---
August 9-18
PEI's Old Home Week
Old Home Week hits PEI from August 9-18. Make sure you swing by Frosty Treat in Kensington (109 Victoria Street West, 836-3000) for the best soft serve ice cream on Earth: do yourself a solid and get an iceberg. If you're heading for Charlottetown, quench your Five Guys cravings with a stop at Boom Burger (403 Capital Drive, 894-2666), the Cows company's blatant rip-off of the US chain. For seafood hit the Water Prince Corner Shop (141 Water Street, 902-368-3212), grab a bagel with Medallion smoked salmon at the Farmers' Market (420 Queen Street) or go to Rustico and say hi to my parents. They'll probably make you dinner. oldhomeweekpei.com
---
August 17-September 1
Wild Blueberry Harvest Festival
The central part of the province basically spends two weeks recreating the pie-eating scene from Stand By Me, all in celebration of our provincial berry. Stand in the shadow of a giant blueberry and bow down to our round, blue god in Oxford and then head to Between the Bushes (1125 Middle Dyke Road, 582-3648) in Centreville where you can pick a bushel of berries and then gorge yourself at their restaurant. wildblueberryfest.com
---
September 7-8
Fall Fungi Foray & Fest
With cottages on the Cabot Trail, Chantrelle Country Inn & Cottages (48678 Cabot Trail, 929-2263) makes for a good weekend getaway, but it's also the perfect place for a totally legal magical mushroom trip. You need reservations, but it's worth it! Mycologists will help you find all the fungi you can handle, and teach you how to prep and cook them. Then eat them at the Saturday night "Funghi Feast." chanterelleinn.com
---
Top crops
Your best bets for summer market eats.
If you're looking for five fresh finds to kick up your summer snacking, look no further than the farmers' markets.
There are few things better than a fresh tomato. This is a crop that burns too bright and is gone before you know it. If you have a hearty crop, start eating while they're green.
Corn is another perfect fair weather friend: it's bright as sunshine and tastes like summer.
(Yes, those are obvious choices, but sometimes the obvious is obvious for the obvious obvious. Obviously.)
So if you're looking for something a bit different, there are now a lot of Asian vegetables available locally. Farms like Hilltop Cottage Farm, Localmotion, and Watershed Farm are growing bok choy, tatsoi, pak choy and mizuna. These farms don't all supply the Halifax and Dartmouth markets, but a big part of finding treasures is going on the hunt.
Garlic scapes are easier to find. They show up in July, before making way for garlic itself later in the season. Get them while you can: they're a great, mild addition to any stir-fry or vegetable dish, and an absolutely perfect partner for seafood.
Don't just sit around twiddling your thumbs and waiting for your squash to squish, either. Start harvesting the blossoms! Drenched in a light, well-seasoned batter and deep fried, zucchini blossoms are a treat. Stuff them with some local goat cheese for extra punch. Pumpkin blossoms pop up around the same time, and make for delicious edible garnish. Don't over-pick, though, or Linus is in for another disappointing Halloween.