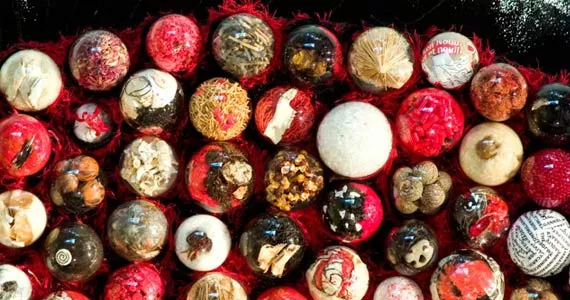 Do you like the dark and smoky? Or perhaps warm tones with a distinctive flavour? Studio 21 gives you a chance to find out at its first Art and Wine event, Friday, February 14, 5-7pm. Visitors will be able to sample wines that match the feel, depth and mood of selected paintings from the exhibition Amour. The event will also be the opening of Romeo Savoie's selected paintings.
"When we talk about art and wine, we're using the same language," says Deborah Carver, owner and curator for Studio 21. "We talk about structure, colour and our emotional reaction. With wine, we're using words describing flavour, scent and colour. It's same characterization."
Six paintings from the exhibition are paired with select wines characterizing their texture and feel. Shelley Joyce, a recently certified sommelier, was intrigued by the idea. "As I was going through the gallery, I could feel the pieces screaming out certain wines," says Joyce. "For instance, there's a metal sculpture that has to do with balance with a golden orb. The look of it is flinty, steely and lean. It made me think of Sancerre, which has mineral and smoky characteristics but also has a kiwi fruit taste as well. The wine has a very balanced taste of acidity and sweetness like the sculpture."
Joyce got involved hoping to learn more about art. "I think it's a great event for people who wouldn't usually go to a gallery opening," she says. "It's about bringing people together and appreciating art and wine in a different way."
Laura Donefer certainly likes to bring a unique perspective to our art. Her exhibit From the Core at Mary E. Black gallery takes a different spin on love and loss.
Donefer's heart is on full display. In "Berest," Donefer pays tribute to her friend and mentor Daniel Crichton. The piece is composed of various handmade jars filled with ordinary items from Donefer's home ranging from her daughter Ana's cut hair to seed pods from Florida. A single jar is left empty to represent the loss in one's life. "I lost someone that I loved very deeply," says Donefer. "I love everything around me and my family. I've been collecting things since I was seven years old. When you put things under glass, they become precious."
The signature pieces in the exhibition are "Shields to Ward Off Madness" (2009), three large wall installations that bring out the darkness and fiery love that can fill a person's heart. One of the installations features spiky, blood red pieces sticking out in a circle formation with soft, white pieces in the center. The installation comes out of Donefer's painful illness.
Donefer was misdiagnosed with chronic anxiety disorder, which led to her into deep depression. After three years of pain and suffering, she was properly diagnosed with supraventricular tachycardia---a heart disorder---and was able to recover.
"I thought I was dying," says Donefer. "You don't go through an experience like that and stay the same. I wanted to put that emotion and pain into something concrete. Whatever I made, I put everything into it."
Some aspects of love remain a mystery. In "Beyond the Pale: A Talk of Loss, Longing and Love" (2013), Donefer tells the story of her mixed emotions when her daughter Ana moved to Halifax to study at King's College. Unlike the other larger pieces in the exhibit, Donefer doesn't leave an explanation for the work.
"Each vessel represents a feeling," says Donefer. "People will have to make their conclusions."
---
Amour
Opening Feb 14, 5pm, $25
To March 12
Studio 21 Fine Art Gallery, 1273 Hollis Street
From the Core
To Feb 23
Mary E. Black Gallery, 1061 Marginal Road (Suite 140)