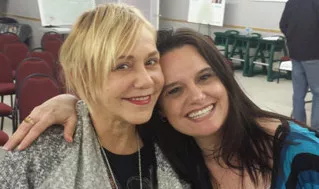 Miles Howe
NDP MLA Lenore Zann (left) with Karen White at a public meeting this week about the Alton Gas project.
A Department of Energy communications director who became a lobbyist for the Alton Gas project just four-and-a-half months after leaving her public employer says the career move isn't a conflict of interest.
Karen White was communications director for Nova Scotia's Department of Energy until April of 2015. She left that job and took a position with National Public Relations, which maintains an office in Halifax, in May. On August 17, White registered with the Nova Scotia Registry of Lobbyists on behalf of Alton Natural Gas for the purpose of lobbying a variety of provincial departments, including her old employer in the Department of Energy.
Nova Scotia's Conflict of Interest Act states that any former House member or public employee must wait six months before they "accept a contract or benefit from any person to make representations to a government decision-maker with respect to a contract or benefit that is or is to be awarded, approved or granted by a government decision-maker."
White says she cleared the move with the province, providing a letter to The Coast from the Office of the Conflict of Interest Commissioner. The letter, dated April 27, 2015, is addressed to White while she was still employed with the Department of Energy.
"I would suggest that the only restriction that you have with your new employer would be that you do not make any representations on behalf of that employer to your current department," writes commissioner Merlin Nunn.
White was cleared to lobby other provincial departments on behalf of Alton Gas, including the Department of the Environment where she has also previously worked as a communications director, along with the departments of Agriculture and Fisheries, Economic Development and Natural Resources.
"In the letter from the conflict commissioner I was restricted from talking with the Department of Energy, which I did not do" says White. "It didn't preclude me from working with other government departments."
Despite the official approval, Truro-Bible Hill-Millbrook-Salmon River MLA Lenore Zann—a vocal critic of the Alton Gas project and the government's consultation process—takes issue with White's new employment.
"I think that the fact that there is a lobbyist working on this issue who worked for the Department of Energy and in particular the minister as the director of communications is highly unethical," says Zann. "What else is going on behind the scenes we don't know about?"
The Lobbyist registry says White's official role is to "primarily act as a facilitator and/or contact person on communications matters." She's also expected to lobby members of the Legislature and advise Alton Natural Gas on "how to interact with government."
Last week, Nova Scotia's provincial government issued a series of permits to Alton Natural Gas Storage Facility LP, allowing the Calgary-based company to continue with its aims to create salt caverns in which to store natural gas in the community of Brentwood, NS.
The project has been highly controversial, with the majority of public attention currently being devoted to the redirection of tens of thousands of tons of brine, produced in the hollowing-out of the salt caverns, being redirected into the Shubenacadie River.
The notion of using a complex tidal river ecosystem like a brine toilet bowl is unique, with no 'real-time' precedent, and comes with an unknown degree of potential fallout.
There's also the ongoing issue of fallout over Mi'kmaq consultation—or lack thereof—during the eight years and counting the project has taken since inception.
Sipekne'katik First Nation is publicly decrying the consultation process over the project, and their exclusion from it, while the consultative body known as the Mi'kmaq Rights Initiative—which claims consultative authority for the other 12 of the province's Mi'kmaq communities—is publicly decrying Sipekne'katik First Nation.
The province, meanwhile, has noted that no Mi'kmaq community has the right, under Nova Scotia's interpretation of the Crown's "Duty to Consult" policy, to a general referendum on the issue.