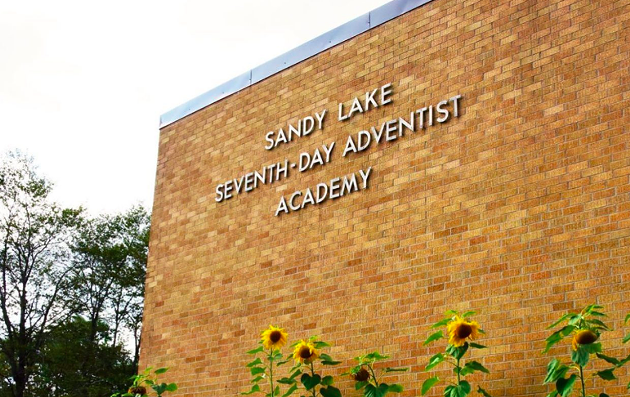 The author of
an online petition
against Coming Out Ministries visiting Nova Scotia says the anti-LGBTQ+ group has previously preached gay conversion at one of the Halifax's private Christian schools.
Matt DeMerchant, a former student at Salt Lake Academy in Bedford, is alleging Coming Out Ministries gave several talks at the K-12 school in the past targeting the conversion of LGBTQ+ youth.
"I attended these meetings in hopes to find a 'cure' for myself," DeMerchant
writes
. "What I found was self-loathing. I became deeply depressed after hearing their message and even had suicidal thoughts. I was pushed further and further from God and from His church. Their message is dangerous."
Coming Out Ministries is a group from Ohio whose vision is to restore "all men and women back to the image of their creator god" and which considers gay people "sexually impure."
The Maritime Conference of the Seventh Day Adventist Church, which owns and operates Sandy Lake Academy, has
already come under fire
for its plan to bring Coming Out to Pugwash in July, including a second petition created by both The Youth Project and Halifax Pride.
"Obviously we're really concerned if this is happening in any school because we know this type of approach will cause harm to youth," says Youth Project executive director Kate Shewan in response to this latest news.
"What I'd like to see them do is issue a statement of support for their queer and trans students, and work at putting in supports like a GSA [Gender Sexuality Alliance] in the school and create those structures which help and embrace people of different sexual orientations and gender identities."
Sandy Lake Academy couldn't be reached Friday for comment. When
previously asked
about the school's stance on conversion therapy, principal Maureen Westhaver declined to answer.
"I'm not willing to go there because I do not know enough about it," Westhaver says. "I could refer you to the Maritime Conference in Moncton."
Westhaver, a former Maritime Conference board member, subsequently stated that "what they do is not connected with me" and ended the call.
While the provincial department of Education can only speak for Nova Scotia's public schools, a departmental spokesperson says the guiding principle for those institutions is to provide a safe place that celebrates diversity and promotes respect.
"It's important that our public schools provide a safe, inclusive and welcoming environment for all members of the school community, regardless of background and gender identity."
Use of practices like conversion therapy on minors is illegal in Ontario and Manitoba, but similar legislation protecting LGBTQ+ youth has not yet been proposed in Nova Scotia.
"LGBTQ+ People already face many challenges," writes DeMerchant. "We are faced with hatred from all corners of the world. The Seventh-Day Adventist church used to be
safe
haven where we could be ourselves and worship our God. This is a direct attack on those of us who wish to continue our faith in God and feel safe in our churches."
DeMerchant could not be reached on Friday for comment, but the Nova Scotian states that he's no longer trying to rectify his faith and his sexuality.
"I have since found peace within myself," he writes. "I have found God and will never stop worshipping Him, but I still lead a homosexual lifestyle."