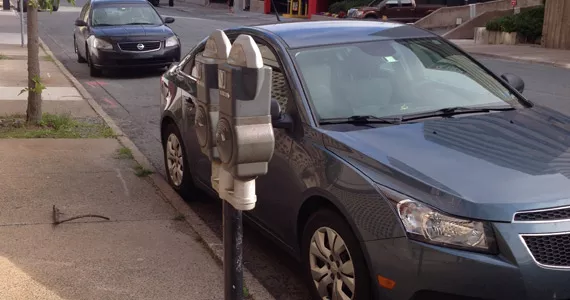 Updated
In the three months since Independent Security Services Atlantic took over the city's parking enforcement, they've issued over 4,000 more tickets than former contractor Securitas during the same period last year. With an increase of that scale, you would expect a few more complaints to be filed.
After becoming conscious of public grumblings regarding the city's new parking enforcement contractor, The Coast decided to inquire officially.
Here's where it gets weird.
City Hall says residents are more satisfied than ever with the service and professionalism shown by the new ISSA agents. According to their figures, fewer complaints were registered with the city last month than the year before. An intriguing statistic, since it would signify that residents are happier than before to be receiving significantly more parking tickets.
The police say they've heard complaints about tickets this summer, but that generally people aren't happy to be receiving parking tickets anyway. All further inquiries were directed to the city, since parking enforcement administration is under municipal authority.
That's been the case since 1993, when the majority of parking enforcement was outsourced by the city to a third party company. This has advantages—it allows police to worry about bigger social ills than somebody's SUV parked in a loading zone, while also increasing revenue for the city.
But it also carries risk. The city loses control over agent training. Discipline of unruly agents is not in the city's hands, but is left to the company's discretion. And it leaves room for fixation on that most common of corporate goals: to write as many tickets as possible in order to show increased performance numbers.
After multiple attempts to contact Independent Security Service Atlantic for information about their agent training and approach to parking enforcement, no answers were provided. City Hall's public relations had little to say on the subject either.
City spokesperson Sarah Reeves wrote in an email, "All parking enforcement officers receive five days of training from a training officer, including on-street training where they write up mock tickets alongside an officer who is qualified to issue legitimate tickets."
To clarify, only ISSA officials receive their training from the city officials. Those officials then train the agents hired by ISSA. Part of that training includes conflict resolution (i.e. how to give tickets without getting punched in the eye).
"They have no instruction outside of what is outlined in provincial legislation or municipal by-law/regulation," says Reeves.
That means, in theory, that ISSA are not under orders by City Hall to increase the number of tickets distributed. Any increase could therefor be attributed to the company's own motivation.
No information was provided by HRM or ISSA about how agents were screened, selected, or disciplined if complaints are filed against them.
Further questions about how ISSA was able to undercut competing companies for the contract—by hundreds of thousands of dollars—also went unanswered.
The original version of this article stated police haven't "typically" written parking tickets since 1993, when it was outsourced by the city. Halifax Regional Police officers can, and do, issue tickets on a case-by-case basis. Training for ISSA management was also provided by city staff, not the police, as was first written. The online copy has been changed to reflect this. A quote by Halifax spokesperson Sarah Reeves has also been moved down a paragraph, for clarity's sake. —ed.