Final Fantasy w/Symphony Nova Scotia
Rebecca Cohn Auditorium, 6101 University Avenue, 8pm, $29-$49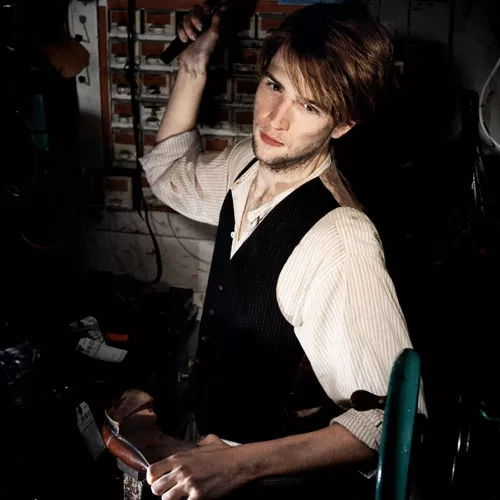 Owen Pallett is so excited and he just can't hide it.
The performer, who records under the moniker Final Fantasy, is performing with Symphony Nova Scotia this Friday at the Rebecca Cohn. Pallett is as excited as his fans about the nearly sold-out show: "There's a large part of me that wants to go out and get a camel raincoat, brimmed hat and thick brown spectacles. Walk around Halifax like an LA composer. But I'm restraining myself."
Pallett is almost as well-known for his own work as he is for his contributions to other artists' music. He has worked with everyone from Arcade Fire, to Beirut to Polaris-Prize-winning-comrades Fucked Up. For Pallett, it's a way of keeping himself on the right track. "When you're a solo musician, there's no way of getting accurate feedback on your work," he says. "Except applause, measured in seconds. I love working with other musicians, just so that you can occasionally get a 'That sucks!'"
Pallett is also known for giving fans a chance to hear works in progress during his live shows. In 2007, he performed "The Butcher" at a pair of shows at Saint Matthew's United Church. The track was only officially released a year later on the Spectrum 14th Century EP. Pallett's upcoming album, Heartland, is expected to drop on January 12. For him, this show is an opportunity to give a sneak preview. "I've wanted to make an orchestral album for some time and I'm excited that I might be able to share some songs in that format." (ST)
Dan Mangan
The Company House, 2202 Gottingen Street, 10:10pm, $6
Dan Mangan has a big bushy beard, and loves kittens and Robert Munsch's Love You Forever. Needless to say, he's been breaking hearts with his folk tunes across the country for years. Now he's finally making his way east, and with a four-piece band too.
His most recent record, Nice, Nice, Very Nice, has been called a backhanded love-letter to his native Vancouver, but sonically Mangan's work speaks to every Canadian who has been snowed in or drank themselves to tears with rye whiskey. Bashful, Mangan doesn't consider himself to have a pretty voice. But the stumble of his phrasing and pauses makes it unique. And even on the new more upbeat tracks, he still sounds sad.
"I swear I could be playing Top 40, Britney Spears pop songs and people would still think I sounded melancholy," says Mangan. "There's nothing I can do to get away from it." (ML)
Plays with: Norma Macdonald (8:30pm), The Eddie Orso Band (9:20pm)
Entire Cities
Gus' Pub, 2605 Agricola Street, midnight, $8
"My parents are beekeepers," Simon Borer says, which seems to explain a lot about the Toronto country-folk-indie band and Borer's rousing, literate songwriting. We catch the band in Ottawa, where Borer is shouting from the hall of the noisy bar they're playing that evening. Entire Cities last played Halifax in 2008 with pre-release CD-Rs of its album Deep River in hand, which is being re-released on vinyl, and is recording a new album, with Heather Kirby of Ohbijou, to be released in the late winter. They're taking things more slowly, adding a couple new instruments and leaving more room to experiment in the studio. "It's like our Empire Strikes Back," Borer explains, "darker, longer, more intense, a little bit louder. But before that, their merch table has honey bears from Borer's parents' apiary with an EP download code. "People haven't been buying them, and I've been taking it really personally," he says. Help a beekeeper out, will you? (LK)
Plays with: Jane's Party (9pm), The Grass (10pm), The First Aid Kit (11pm), Forest City Lovers (1am)
Two Hours Traffic
Coconut Grove, 1567 Grafton Street, 1am, $12
Alec O'Hanley's amp is busted. "It sounded like fried eggs when I plugged it in last night," the guitarist/keyboardist for Two Hours Traffic explains. He's at the repair shop in Toronto when the call reaches him. "I blame Hamilton," he jokes about the city the band played the previous night. Temporary fix found, the show went on: "We played a legion. It was huge and had a lot of heart," O'Hanley says. "We played in front of these coat of arms." Across Canada, the ranks of the quartet's fans are swelling, aided by the band's fall tour for its third full-length
Territory
. "We felt the impetus on the last record [
Little Jabs
] to fill every cranny with some sort of sound," says O'Hanley. "We had the luxury to tone a little more this time." As songs expanded spatially, new emotional and sound tones emerged, and a worldview with wider scope took shape. "You get an inkling of how the world works," O'Hanley says, with an undertone of wariness. (SF) Plays with: Smothered in Hugs (10pm), The Danks (11pm), Mardeen (midnight)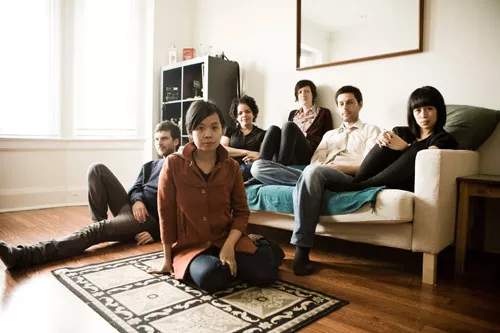 Ohbijou
St. Matthew's Church, 1479 Barrington Street, 8pm, $15 adv/$18 door
Ohbijou's second full-length album has taken wing. Casey Mecija is thinking of the next taking flight.
"There's a lot of growing we want to do," explains the seven-piece, Toronto-based band's principal singer-songwriter, who also plays guitar and other instruments on Beacons. The album followed Ohbijou's 2006 debut, Swift Feet For Troubling Times. "There's a certain sparseness and delicateness on the first record, and on the second we're progressing into a fuller sound and arrangement," observes Mecija, whose sister Jenny plays violin, wind organ and glockenspiel and sings on Beacons. "Our voices are matched so well," Mecija says of harmonizing with her sib. The sisters were raised by parents who exposed them to all sorts of things, music and sports included, but encouraged them to discover on their own, Mecija recalls.
For the next recorded outing, Mecija explains that Ohbijou, lauded for their "cinematic" sound, wants to create a "really happy medium" between the two approaches---to guide listeners from one pole to the other and back.
Mecija's metaphorical songwriting beckons the listener close. On Beacons, the tone and imagery points to a theme of, at times, containment. But then there's a shift away from being buried to being hidden or concealed. Some songs resolve in an emergence, escape or rescue. Often ocean scenes and metaphors are used, including in the album art.
Mecija doesn't hide behind metaphor, or use it to keep listeners at a distance. "Sometimes to convey a feeling is to relate it to something else," she says. Still, Mecija adds, the next album presents an opportunity for her as a songwriter: "I'd love to experiment with different kinds of writing." This may include a "more direct" style of writing.
A major determinant will be how the band responds to the songs, which Mecija usually pens on her own with a guitar, and illustrates them musically. This is the first step in the songs' release. "It's never been hard to let the songs go because that's just where the songs go---that's how the process goes." (SF)
Plays with: Acorn (9:15pm)