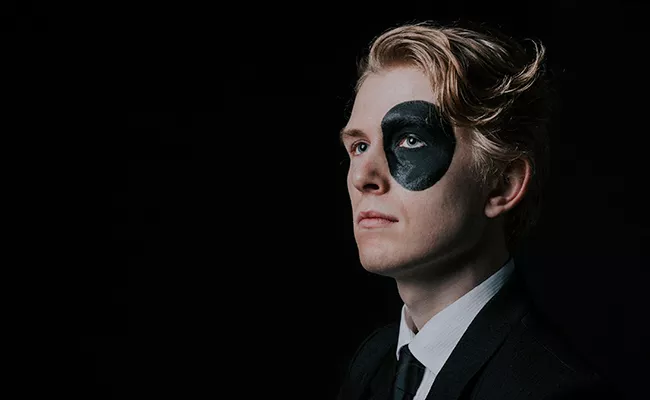 Thu Sep 6, 11:30pm; Sat Sep 8, 3:30 & 10:45pm; Sun Sep 9, 2:45pm
The Old Company Theatre 2202 Gottingen Street, $8
On a sunny Saturday afternoon, Brandon Lorimer sits waiting in the Bus Stop Theatre lobby wearing an eye patch. Maybe he's in character: Somewhere between Brandon Lorimer and Brandon Voyeur, his performative alter ego who dons a circle of black paint around his eye.
"Brandon Voyeur is the aspect of myself that I primarily connect with my musical creation, and now in my theatrical creation," says Lorimer. "I have been performing as Brandon Voyeur for just over three years."
To bring this character from a musical persona to a theatrical one, Lorimer has created Brandon Voyeur: A Summoning. It is billed as a drama, but combines monologues with Lorimer's original music, and is directed by Peter Sarty. To Lorimer's disappointment, the Fringe Festival organizers did not allow him to list the show's genre as three question marks. "It's a dark work and it brings up a lot of things that I haven't discussed with many people," says Lorimer. "In a way it's easier having that in your art."
The show explores issues of identity and mental health, he says, and poses a lot of questions to the audience, not shying away from darker subject matters: "The point of creating dark work is the hope that stems from it. I hope that is the most clear note from the play."