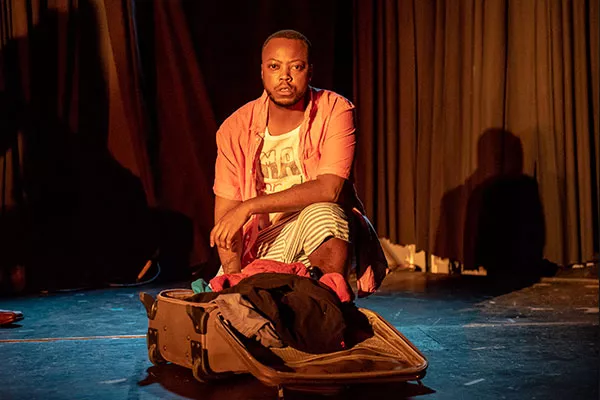 Thu Sep 6, 9:10pm; Sat Sep 8, 8pm
The Old Company Theatre, 2202 Gottingen Street, $10/$7
When Tyler (Tsholo Khalema) meets Bob (Mihaly Szabados), the attraction is instant. Bob has lost someone and Tyler's art speaks to the pain. Meanwhile Tyler's friend Jill (Karla Rae James), who has transitioned quite late in life, is having issues being let into the gay club she's patronized for 30 years. The bouncer keeping her out? Bob.
"The show comes from our lives," says Syrus Marcus Ware, who wrote Bubble Trans Pride with Hanlon McGregor and, like Tyler, is a Black transgender activist.
"That Tyler character came from me wanting people to have more empathy through these change-makers," says McGregor. "When we look back through history we celebrate them as heroes, but in the moment they make us uncomfortable."
Bubble Trans Pride is paired with a screening of McGregor's short film Holding Hands with the Awkward, which he co-wrote and directed with Szabados, featuring Tyler (played here by Ware) helping out a friend dealing with his transition. "They're part of the same story," says McGregor. "It's lighter and funny, and to pair them was a bit of a palate-cleanser. It's about the emotional labour that goes on when supporting each other. It's not a bank account, you can't balance all that out."
Tyler, in the play, is angry at Bob for keeping Jill from a space she's known for decades, arguing that even within the queer communities there's still a lot of work to be done.
"It's so essential to have a reflective look at what transphobia and anti-Black racism look like in the queer community," says Ware. "We are shifting and re-centring the conversation around marginalized bodies, and saying their experience is impacted by these other forms of oppression. I think it's a real important work to have out there right now." —Tara Thorne