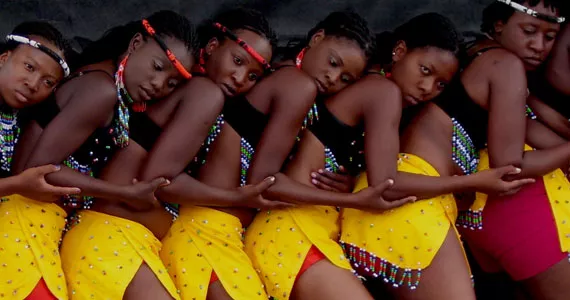 The African dance musical Bhowesa Kkazana (You Go Girl) lights up the Sir James Dunn this week.
As fall starts creeping its reddish hues over the leaves of our summer, it's easy to feel that fun is coming to an end. Students are pulling out books, shorts-wearers are pulling on pants. It can all feel a little sad. But luckily, the 22nd Atlantic Fringe Festival is here to give us everything we want.
With over 300 performances of 51 shows in 11 days there will be no time for summer-remorse. "Fringe is chaotic and festive," says festival director Thom Fitzgerald. "It's an occasion where you can truly say there's something for everyone, something to all tastes, because there's no programmer or curator choosing work to their particular taste."
At Fringe everything goes. The lack of curation is a staple of Fringe festivals the world over. The sheer variety of performances is breathtaking and will be on full display opening night at the Fringe Sampler Smorgasbord event---where each show will have one minute to attract their audience.
Fitzgerald explains that the first Fringe Festival was birthed in Edinburgh, Scotland as an antidote to the increasingly "hoity" Edinburgh International Festival. A group of uninvited artists got together and decided to put their shows on on the fringe of the festival. Since then, Fringes have been defined by their low artist fees and inclusivity.
"It's a good platform for younger people because it's very affordable as a method of producing work," Fitzgerald says. "It does cost fees to the producing group but they are a tiny fraction of what it would cost to put on a production outside the festival."
Emily Jewer is a young playwright who will be showing her work, Speaks Alone, at Fringe. It is a study of the monologue as an art form. Jewer sees the Fringe model as an important forum. "The Fringe is a great venue for atypical theatre works," she says. "Fringe shows often challenge the format, length and subject matter of traditional shows, and Fringe audiences are always very open to seeing such shows. Speaks Alone fits into this category well. Not many shows include 20 different stories by 16 different playwrights."
Rob Salerno will be performing his one-man show, Fucking Stephen Harper: How I Sexually Assaulted the 22nd Prime Minister of Canada and Saved Democracy. Salerno retells the true story of when he attempted to cover the 2008 federal election for Xtra and instead was arrested for sexually assaulting the Prime Minister.
"At the time I was tasked with getting interviews with all the party leaders to compare where they stand on queer issues," Salerno says from Victoria. "I knew that we weren't going to end up endorsing the conservatives as champions of the gay community but I wanted to give them a fair shot to respond to the community's concerns. Suffice it to say I pull out all the stops to get this interview with Mr. Harper."
Salerno's show promises to be tongue-in-cheek, but above all he is hoping that it will act as a challenge to the Fringe audience.
"It's a funny show and I want people to laugh and they do laugh," Salerno says. "But I also want them to think about what's going on in this country and what they can do to change it."
Fringe provides the invitation for artists and audiences to find each other. Whether you're looking for a laugh, a curiosity or a cry, the sheer variety dictates you'll find something you want. And with the chaotic energy the festival brings to our streets we can stave off our autumnal responsibilities for another minute.