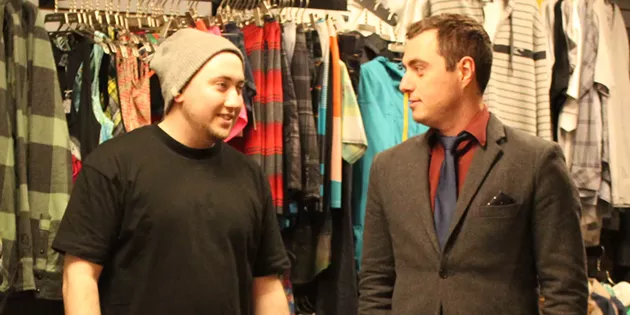 A double bill of stand-up comedy in Vasectomy Baby
Broadway the 13th
★★★½
This show is a high-energy showcase that strings together a series of favourite hits from stage musicals with a slight but cute plot. Four young actors (played by Lena Andriani, Becca Guilderson, Marietta Laan and Taylor Long) venture to a cabin in the woods to write a musical, only to find themselves possessed by a demonic Broadway spectre. The cast is talented (though there is variety in the strength of voices) and the premise is fun. Highly entertaining.
Greatest Pretend Ancestry
★★★½
This is a lovely, lyrical short play that traces the relationship of a brother and sister from its beginning to its end. The telling is visually captivating, filled with startling images such as a family tree that blossoms with the people who make up its branches. Heart felt performances and creative staging make this a beautiful little gem.
Legoland
★★★★½
An unexpected fringe hit, this show is a fabulous blend of physical comedy and social satire fueled by masterfully comic performances by Maggie Hammel and Henricus Gielis. Director Gillian Clark shows a deft hand in keeping this manic road trip on the road. Good luck getting tickets!
Suddenly, There
★★½
A young woman and a disembodied voice As far as sound and lighting goes, this show impressed me. Alexandra Montagnese is an engaging performer who truly came alive in the small segment of dance at the end of this show. But the structure of the show is confusing (uneccesarily so, I think), and the writing, while poetic and meditative, fails to connect the audience to character or story.
Vasectomy Baby
★★★
Luke Lawrence is a a funny fellow with a winning smile and a likeable manner. His comedy is unfocused and unpolished, but garners a few chuckles. Matt Wright is a comic who thinks on his feet. Much of his half-hour set on Friday night was pulled from the wealth of material literally surrounding him at Plan B, the curio shop that houses the venue. These two played well to a small house, but I'd love to see what they can do with energy from a larger audience.