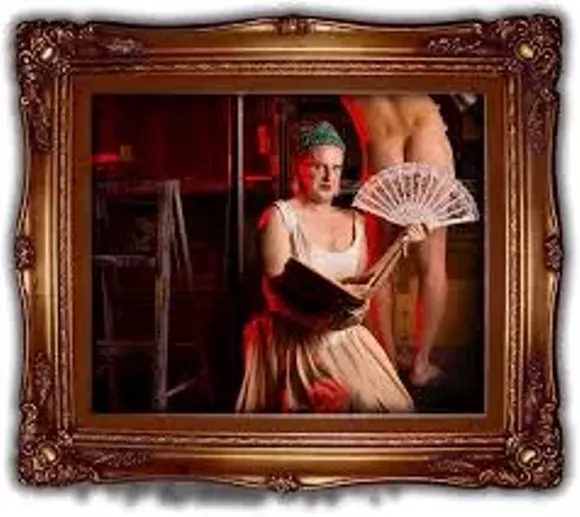 With six plays to review, it may well be time to cut the folksy introduction, but not before I send a shout-out to the awesome Haligonians who helped get my Fringe odyssey back on track after the fringemobile got a flat.
Thanks to Glen at The Snappy Tomato on Barrington for the loan of a jack (and for the delicious pizza) and to Megan and Rob for the flashlight and aid.
Fed and mobile, I completed a day of theatre that started with:

Unsex'd by Daniel Judes and Jay Whitehead
While fringe festivals are wonderful incubators for rough, new work, they also often play host to polished pieces that could shine on much, much bigger stages. Unsex'd is just such a play.
Jay Whitehead plays an aging Elizabethan boy-player who invites a seemingly gormless loaf boy (played by Adam Beauchesne) into his life in a misguided bid to revive his sagging career.
The pure craft of this show draws you in from the opening scene where Whitehead and Beuchense speak in gorgeous verse, seamlessly weaving lines together.
Unsex'd is the kind of comedy you get when camp and wit is combined. There is depth of character even in its most farcical moments.
Honestly, if you're only going to get the chance to see one show at the 2013 Fringe, make it Unsex'd.
The Bus Stop, 75 minutes, $10
September 1 @ 9:45 PM
September 2 @ 4:45 PM
September 3 @ 9:45 PM
September 4 @ 7:00 PM
September 5 @ 7:00 PM
September 6 @ 10:30 PM

Call Mr. Robeson by Tayo Aluko
The buzz for this show has been lively, and with good reason.
For 90 minutes, Tayo Aluko brings Paul Robeson, human rights activist, actor and singer extraordinaire, to life. The show covers the struggles that Robeson, who was born in 1898 and died in 1976, faced as a man, an artist and a humanitarian.
The drama in this play comes from the drama in Robeson's life itself. "Robeson" narrates his own life through it's ups and downs, aging before our eyes.
Aluko offers lovely renditions of Robeson's best known songs, though his baritone voice can only hint at the depth of Robeson's bass.
If you're familiar with Robeson's immense talent and drive for social justice, you should see this play. And if you're not, you should definitely see this play.
The Bus Stop, 78 minutes, $10
September 1 @ 7:00 PM
September 2 @ 3:00 PM
September 3 @ 8:00 PM
September 4 @ 8:45 PM
Bill Wood is Magic
Magic hurts my head. I feel like I should be able to figure out how that playing card got inside that apple, or how the magician knew exactly what I was thinking about, but I never can.
And that, says magician Bill Wood, is how it should be.
In his charming half-hour magic show, Wood asks the audience to engage their sense of wonder. And with his playful patter and off-the-wall imagery, it's easy to do.
This show is rated all-ages, and I recommend that you snare some kids to take with you, just because it's so fun to watch them interact with Wood.
Not every trick was successful on the day I went, but that only made for more laughs, of which their are plenty in this lovely little show.
Plan B, 35 minutes, $6
September 1 @ 7:00 PM
September 2 @ 9:25 PM
September 3 @ 8:00 PM
September 4 @ 7:00 PM
September 5 @ 6:55 PM
Suicide Monologues: The Story of Hope by Jackie Kinley
Harrowing. Powerful. Uplifting. Three words that jump to mind when I think of the Suicide Monologues.
Inspired by real-life stories, the play is set in a therapy group where four actors (Keelin Jack, Ryan Lee Kennedy, Joanne Miller and Jeremy Webb) are interspersed in the audience. The characters tell their stories of isolation and despair, slowly connecting to one another (and the audience) as they do.
My one quibble was with the similarity in the language of all four characters. I would love to see the script better reflect the difference in their ages and backgrounds.
Obviously the journeys to wellness are extremely condensed, but I see this kind of play as a valuable jumping off point for important discussions about mental health.
Plan B, 40 minutes. $7
September 2 @ 8:15 PM
September 7 @ 8:00 PM

Half Girl/Half Face by Zoe Erwin-Longstaff
Halifax needs to see this show.
As a slightly different take on the cyber-bullying issue that we've been talking about, it's timely and thought-provoking.
Arlen Aguayo Stewart plays a young girl who has achieved internet notoriety in a confusing and distressing manner.
She has been catapulted into the limelight for a single, simple picture of her face.
As she struggles through a range of emotions caused by the fallout of her fame, she raises important questions about the price of popularity, the power of social media and the rights of the individual.
The young girl's hair tossing and valley-girl speak are exhausting (and made more so by the use of computer and transmit them), but that's not a criticism.
For me, it only underlined how important it is to look past the superficial outside and to truly listen for the message within.
Emotion Picture Gallery, 60 minutes, $5
September1 @ 8:00 PM
September 2 @ 7:00 PM
September 3 @ 8:30 PM

The Panel Show Strikes Back by Ned Petrie
I was totally exhausted by the time I headed to this show at 11:00 pm, but it was worth the effort.
Host Ned Petrie assembles a different set of Halifamous funny people for each show, and together they hold a discussion of current events in the guise of a game show.
Okay, "hold a discussion" is a little formal. It's more like riff hilariously on events Petrie has pulled from the news.
Last night's guests were "Flag on the Play's" Paul Doucette, teen-angst journaler Geordie Miller and comedian Brian MacQuarrie. They covered everything from poop police to the possible court-martialling of Cap'n Crunch.
Highly recommended!
he Bus Stop, 60 minutes, $10

September 5 @ 11:15 PM
September 7 @ 9:30 PM
September 8 @ 4:30 PM