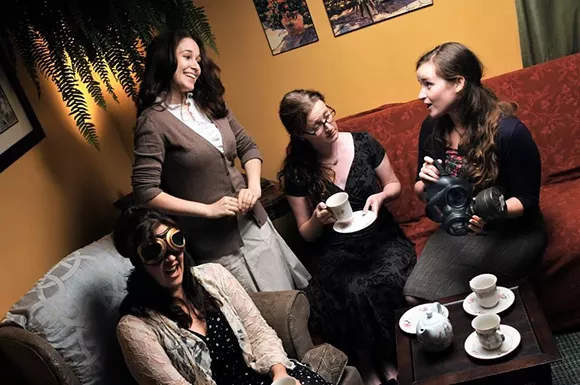 Photo: Trina Corkum
Four chicks on a quest for laughs in Hot Mess

Love in the Time of Time Machines
by Ned Petrie and David Tichauer
Would you choose to fall in love, knowing for certain that it would end in heartache? That's the question that Bingo-supply salesman Klein (Ned Petrie) asks himself when his girlfriend Gabrielle (Gillian English) tells him their five-year relationship is over.
For Klein, the question is actually worth asking since he has secretly invented a time machine that will allow him to return to the past to chart a different future.
Petrie is a winning performer and a master of comic delivery. English, with her quiet, natural acting style, is a great foil to his goof-ball character, and their attraction to one another is totally believable.
Some of the biggest laughs in the play come when Petrie and Brian MacQuarrie (who plays the narrator and bartender) appear to go off script, cracking each other up in the process.
The time travel aspect of the play met my stringent requirements for logic (It made sense to me, okay?) and I cared enough about the characters to be rooting for their relationship.
This combination of love, laughs and pseudo-science all add up to a good time.
September 6 @ 8:15 PM
September 7 @ 6:30 PM
Understudy by Gillian Clark
You've probably never met a child like Dylan. He's a precocious nine-year-old who's in love with theatre, confused about his sexuality and desperately searching for his mother's approval.
Together, these attributes create a shit-storm of events that put him on the path towards the most memorable Christmas pageant ever.
Actor Gillian Clark plays Dylan as a manic bundle of energy, careening from one creative outburst to another. But Clark also deftly reveals Dylan's quiet, introspective side, too, and it's here that we learn what makes this young boy tick.
While you may not know any child quite like Dylan, seeing this touching little play will make you want to pay a little more attention to all the children in your life.
Plan B, 30 minutes, $4
September 7 @ 9:10 PM
Alone by Sherry Lee Hunter
A lonely evergreen, a soothing soundscape and Sherry Lee Hunter. That's all that's needed to transform a sterile lecture hall into a tiny island in a bay.
Alone is a show about a middle-aged woman who sets out on an overnight vision quest with the hopes of exorcizing the demons that have haunted her.
While her story is specific (alcoholic father, self-medicating with cigarettes and booze etc.), her journey to self-acceptance will speak on different levels to most everyone.
Hunter is a master of physical theatre, and she draws you into her world as much with her body as with her words.
While it deals with weighty subjects, Alone approaches them with delicious humour, making this a treat for the heart, head and funny-bone.
September 7 @ 7:15 PM

Hot Mess Comedy Show by Hot Mess
This hour-long show by the women of Hot Mess, Ambyr Dunn, Laurie Jones, Nicole Moore and Lianne Perry, is made up of 12 sketches, and as is the nature of comedy, some made me laugh out loud and others left me cold.
My favourite was called "Ex-Factor", a reality TV show spoof that had a pathetic people-pleasing woman choosing a partner among three loser men (the self-absorbed jerk, the sexist boor and the psychopath.) Underneath the crudeness (which made me laugh) there was intelligent commentary about the importance of self-esteem.
Also clever were "Ghost Walk" (A tour of some familiar deserted retail spots in Halifax) and "Night Nurse Tango" ( a play on Chicago's "Cell Block Tango".)
My least favourite was "Chenille & Razor's Edge", a dance number to "Total Eclipse of the Heart" by the lamest dance troop alive. There clumsy fumbling and clowning just didn't do it for me, though others were laughing riotously.
Hot Mess. Mixed bag.
Museum of Natural History, 60 Minutes, $6
September 7 @ 11:00 PM
September 8 @ 7:00 PM