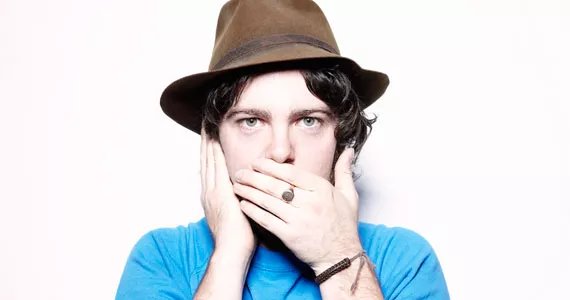 Jordie Lane hears no evil, speaks none too.
"Growing up, my dad was a clown and my mom was a comedian, so the idea of performing wasn't foreign to me," says Australian folk-singer Jordie Lane. "But the idea of being a rock star, I didn't even know what that was." Then, when he was 10, a new kid moved to Lane's school, sharing with him records by The Beatles, Van Morrison and The Boss, which began Lane's obsession with musicianship.
From Melbourne but now in LA, Lane will kick off his debut Canadian tour at The Carleton on Wednesday, with an exclusive Canadian release of his third full-length record, Live at the Wheaty, on July 9.
Since 2002, Lane's been traveling the world with a guitar on his back in the style of Townes Van Zandt and his hero Gram Parsons. Reminiscent of a 1970s Neil Young, Lane's heartfelt folk ballads, accented by singer Clare Reynolds on this tour, have been crafted by his love for American traditions.
"I've always connected with American music more than stuff happening around me in Australia," Lane says. Partly, American folk is interwoven with storytelling and Lane's live show is a charming mix of performance and humorous banter. His circus upbringing inspired his desire to connect to an audience.
"I've watched my mom tell the most mundane stories around the dinner table about her trip on the tram that day. She would create a story arc so amazing that had you in suspense, with ups and downs, with laughing and crying," Lane says. "So if you can create an experience that takes you on a ride like that, like a mini-version of life, that's the most exciting thing to see. That's what I try to do onstage."
Jordie Lane w/Barney Bentall, Wednesday, July 3 at 9pm, The Carleton, 1685 Argyle Street, $22.50