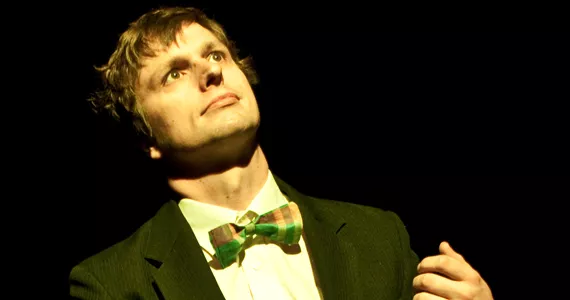 Christian Murray's Bone Boy shakes up the tragic, the comic and the afterlife. by Matthew Ritchie
After years starring on the stage and screen, Christian Murray returns to the director's chair this month with Bone Boy, a self-described "sci-fi, tragi-comedy" in which Murray reflects on the meaning of life and the future of humanity.
But Murray didn't always see himself tackling such broad metaphysical ideas, let alone being much of a writer in the first place. "Growing up in Dartmouth and being in remedial reading, I never thought of myself as a writer," he says at his home in Halifax before opening night.
Murray was drawn to the theatre in the early '80s, travelling around the world with his troupe Jest in Time Theatre, and writing and performing on television shows such as This Hour Has 22 Minutes and Lexx.
But after being invited to a writers' workshop in Banff in 2006, Murray finally decided to put pen to paper and lay out a story that had been drilled into his head after watching a news report years ago.
"It was early in digital photography land when Photoshop and all that stuff seemed like miracles. This boy had died at the age of seven and they enhanced it to how old he would be and showed it to the parents who immediately started weeping," Murray says.
The idea of a person being regrown to a full sized adult stayed with Murray and became the focal point for Bone Boy. The play tells the story of a family who, after the death of their child, use the DNA on one of his baby teeth to recreate him as a fully-grown adult (and yes, this is a comedy).
The production mixes together multiple genres and a surreal storyline to create a dreamlike visual experience that was in part inspired by the 1979 science-fiction film Stalker by Andrei Tarkovsky.
Although the play is about a dead child being reborn, Murray says he didn't set out at the beginning to create a dark comedy, let alone one that mixed so many different genres together.
"I didn't really know where it was going to go, I just sort of let it happen," he says, adding that his writing process was predominantly inspired by the great physical theatre performer and teacher Tony Montanaro.
"There is this great quote from Montanaro---who is a great influence on me---and he said, 'Don't write, develop the art form.' His basic idea is that whatever it takes to tell the story is what you need," Murray says. "It wasn't a conscious decision about style and genre. It was more about writing something that I would like to see on stage."
But underneath it all, when asked to describe what the overall message is for the play, he says it's a vehicle to explore thoughts on the afterlife and how we occupy existence. "It's also in some ways a meditation on me being raised Catholic in Nova Scotia and how that relates to life and death," Murray says. "I'm not a religious person necessarily now, but when you're raised with religion it sticks with you in some ways."
But Murray is happy to finally put the nail in the coffin of Bone Boy and is excited to see what the afterlife has in store for the play, whether it will continue under his own direction or be reinterpreted down the line by another director for the silver screen or stage.
"I think there are a lot of different ideas and avenues thrown in there and people can take what they want from it," he says. "And if they don't like it, they can write their own play."
Bone Boy - The Theatre Play, To June 3 at the North Street Church, 5657 North Street, 2pm, 8pm, $15/$25