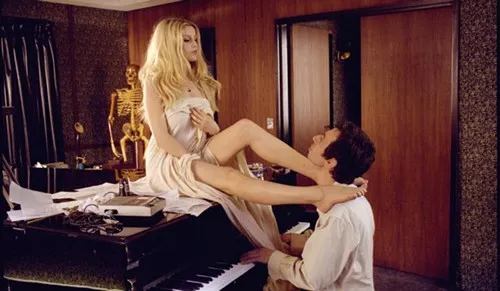 Gainsbourg (Vie héroïque)
Tuesday September 21st, 9:25pm, Park Lane 7
A short while and walk down Park Lane's carpeted corridor separates the screenings of Trigger, a fictional film, and Gainsbourg (Vie héroïque), a biopic/fantasy based on the life of the in/famous French singer.
But the two films connect across cinematic and geographic distances.
Thematically, the Canadian and French movies both delve into duality.
In Trigger Vic and Kat form the duality. They are the guitarist and singer respectively from a now-defunct indie rock band. Though Trigger broke up long ago, its existence as a creative entity, a unity of their individual personalities and musical personas, continues. And, as Vic and Kat meet again, they learn how their friendship, the first basis for their band, existed within and without themselves: each woman recognizes herself in the other, respects and rejects something essential in the other.
Gainsbourg (Vie héroïque) presents the duality differently. Joann Sfar, who wrote and directed the biographical film based on his graphic novel, extracts another version of his hero (played by an eerily similar looking Eric Elmosnino) and gives him form.
Called La Gueule, which roughly translates to "ugly mug," he's played by Doug Jones in exaggerated flesh fabricated by the effects creators for Pan's Labyrinth, a point made on the festival's website. So here we have a fictional character in a real figure's life story.
With his long fingers, ears and nose, his illuminated eyes, sharply cut suit and tapered boots, La Gueule is Gainsbourg's "double." One of the singer's lovers points out that one's double is "the devil."
Indeed, La Gueule is the fiendish extension, or reflection, of Gainsbourg himself, the singer's troubled conscience, his darker deeds. (Similarly, the lead character in the excellent cable TV series Dexter refers to his "dark passenger.")
La Gueule accompanies and aids Gainsbourg on his misadventures and misdeeds. He encourages Gainsbourg's womanizing, drinking and smoking, while mocking his despairing (a desire to be a painter, an artist, not a popular singer).
Though La Gueule adds a grotesque levity (you can hear his skin stretch and creak in some scenes and he croons his lines) and an unexpected fantastical element to yet another film biography, the presence of the character kind of lets Gainsbourg off easy.
Are we supposed to sympathize with Gainsbourg because of his low self-esteem and drive for self-destruction as embodied by La Gueule, or admire the man for his wild imagination, his own sense and love for fantasy, which fed his mind as a boy, his painting and ultimately his music?
Maybe it's both. No one said conflicted feelings were always to be resolved, especially when a filmmaker unabashedly chronicles his subject's life in heroic terms, as the vie héroïque. Definitions of hero will differ greatly among viewers. Some may see Gainsbourg as anti-hero, the guy one loves to hate.
As it goes with many biopics, a long period (too long probably) of time is covered. (Though this has a visual upside: wardrobe and set designs are rendered in close detail.) The scenes from Gainsbourg's boyhood, when he's still Lucien Ginsburg, the son of Slavic-émigré parents, during the Nazi occupation of Paris feels like another film entirely.
In terms of narrative, viewers go on a choppy ride starting from his youth. His affairs with the likes of Bridgitte Bardot appear episodic (oh, there they are singing that famous "Bonnie and Clyde" song together for the first time) and almost inconsequential. He's never shown leaving. His life with British actor and singer Jane Birkin (more a performance and less a caricature from Lucy Gordon) is treated with a little more depth.
The film concludes in the late '80s-ish and Gainsbourg's attempted recovery of his career in Jamaica. That's where he records a controversial recording of France's national anthem with reggae session players. His musical experimentation and curiosity is only hinted at here.
Gainsbourg returns to France and dies at 62 in 1991, though his death isn't depicted in the film.
Two deaths change the experience of both films, Trigger and Gainsbourg (Vie héroïque). The viewing of the former happens with a mind to the loss of Tracy Wright, who passed away before the film was released. But her performance erases, for the duration of the film, that fact.
Then, while scanning imdb.com for the actor's name who plays Jane Birkin, one learns that Lucy Gordon died, an apparent suicide, before the latter film was released in France. This alters the memory of the performance, the film itself. A fear of forgetting and a sadness set in mind.