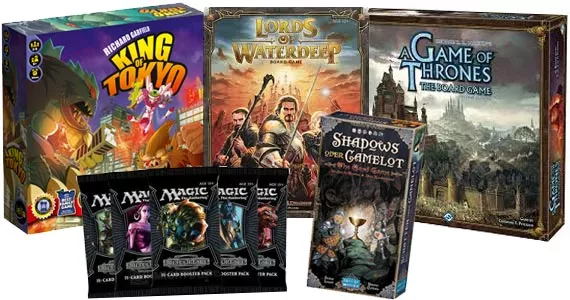 For TV addicts
Strange Adventures
5110 Prince Street, 425-2140

"Game of Thrones definitely," says Kate Leth. "Zombies is super-fun so anyone who likes The Walking Dead or horror shows—it's cooperative, versus, challenging and really fun with a lot of expansions. We also have My Little Pony Monopoly and Big Bang Theory Clue."
---
For tyrants Quantum Frontier
3087A Robie Street, 446-8233
"Lords of Waterdeep. Each player is a secret Lord of Waterdeep trying to take control of the city," says Matthew Chapple. "Cadwallen: City of Thieves everyone is running a thief gang and trying to rob the city blind while trying not to get caught. Revolution! is another court city where each individual player is trying to rally support to overthrow the government and Risk! Legacy let's you tear up other players' favourite pieces and stuff."
---
For team players
Monster Comic Lounge
2089 Gottingen Street, 429-2398
"Shadows Over Camelot would be my first that's a big one for team games," says Gavin Carruthers. "Arkham Horror is based on Lovecraft so there's a town you're trying to protect from elder gods that come through portals. And Pandemic, of course."
---
For dreamers
Giant Robot Comics
114 Woodlawn Road, Dartmouth, 404-8400
"In Pathfinder you create worlds—it's basically Dungeons & Dragons but with slimmed down rules," says Darryl Wall. "Small World is fantasy and world building. Can I add King of Tokyo just because I love it?"
---
For tournament players
Strictly Singles Sports Cards
6160 Almon Street, 455-2132
"Magic The Gathering, Yu-Gi-Oh! and Vanguard," says Mike Dean. "It's a game design by a guy who worked for Magic and Yu-Gi-Oh! and wanted to make the perfect game—so he made Vanguard."