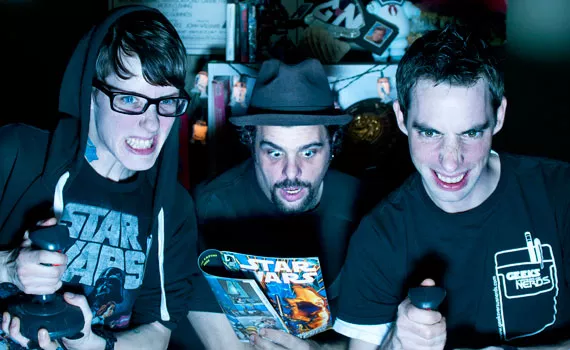 Krista Comeau
These GvN crew members are, from left, casting director Jay Roy (Spider-Man fan since 1988), host Andrew "PigMonkey" Dorfman (Han Solo fan since 1977) and project manager John Roy (Astro Boy fan since 1984).
It's Monday night, and the folks in charge of Geeks versus Nerds, a monthly live pop-culture debate, are curled up on couches in a cozy west-end living room for their weekly team meeting. There's a cabinet in the corner of the room packed with VHS tapes, figurines and board games, and on the table, there are a couple of video game controllers, along with a full-sized lightsabre and broadsword, because of course there is.
The group, nine in total today, is going over various aspects of the show, now in its sixth year. The show's format is a panel debate---the Geeks and Nerds, and their fans, congregate at The Grawood and discuss the finer points of superheroes, TV, movie and comic book characters. A typical debate is in two rounds, often with a theme. An upcoming debate, for instance, is a recurring series called "Femmageddon," where one team of Geeks (with its Geek Leader) and another of Nerds (with its Nerd Herder) will argue who is the superior character, Xena or She-Ra? Harry Potter's Professor McGonagall or The Magic School Bus' Miss Frizzle? These things are important---to someone. GvN claims to "investigate topics no one else has the guts, tenacity or interest to investigate."
There's no easy way to describe what makes a geek and what makes a nerd. It's like male and female nouns in the French language---it's an intuition. "We usually laugh and say 'Depends on what side of the stage you're on,'" says Jay Roy, director of stage productions and casting.
The host of the show is Andrew Dorfman, AKA The Lord High PigMonkey, who opens the show with a ukulele ditty about mature language and keeps the debate on course. Behind the scenes is a dedicated crew of volunteers, among them siblings Jay and John Roy (project manager).
There's a bit of discussion involving upcoming debate topics at this meeting (what rolls off the tongue better, Cthulhu or Godzilla?) but for the most part, the crew is focussed on developing the show, looking for new ways to promote it and bringing new ideas to the table.
It's clearly a labour of love. Jay holds a binder and John consults his laptop, moving the meeting along at a clip, and there are a dizzying amount of items to cover. Since the first live debate in 2008, the show has grown considerably. This year it'll be touring for the first time, visiting a convention in New Brunswick, and this year also marks the beginning of the west coast faction of GvN, started by a former participant of the Halifax debates (he goes by The Lord High MooMan).
As of March 1, there are 50 taped podcasts of Geeks versus Nerds. With roughly 1,500 downloads a month, and an average of 150 attendees at each live show and taping, the success has been consistent.
John, wearing a GvN t-shirt--- which features the logo over a screen-printed pocket protector--- runs the meeting in the style of a big business manager. Roy says he took the format of the group's weekly meetings directly from his former employer at RIM. Jay is in the enviable position of being immersed in geek and nerd culture every day---an employee at Strange Adventures Comic Bookshop, he gauges audience interest on any given topic on a daily basis.
They regularly collaborate with other geek-oriented organizations in the city, panels at Hal-Con (the yearly sci-fi, fantasy and gaming convention), charity events with gamer groups Gelatinous Dudes and the Nova Scotia Board Gaming Society. As you'd figure, there's a bit of crossover.
"We support each other," says John.
"A high tide floats all boats," adds Jay.
Nerd culture is strong in Halifax, and its roosting ground is GvN.
"Debate has been around forever, especially with geeks," says PigMonkey. "I've been around these arguments my whole life and they are some of the more hilarious arguments I've ever heard."
PigMonkey's passion mixed with Jay's theatre background and John's organizational skills made a live show inevitable.
"We started it because we couldn't help it," says Jay.
They've gone from begging friends to be on stage to having an audition process, but inclusion is still a high priority.
"The main point for me is that anyone who wants to be involved can be, doesn't matter if it's going to be for a two-minute debate or a contestant in Knock out the Knerd"--- a smaller satellite show where audience members get to argue with the GvN vets---"if you want to show you have geek cred, you can," says Jay. "Even if you don't want to be involved in the debate, you can just yell from your seat in the audience. Like 'That's not true! That didn't happen in episode 29 part b!' You know?"
Anyone who has had a run-in over a comic book timeline knows exactly what he means.
It's easy to conjure up an image of a typical nerd. Physical traits that we attribute to this cartoonish stereotype don't correspond to the GvN team. There's nearly an equal amount of women to men at this meeting, there were no large glasses, headgear, pants pulled up to the chest. Personality-wise, though, they share a common trait.
Exacting, obsessive and meticulous, the members' expert knowledge of preferred entertainment ---be it movies, comics or games---goes worlds beyond most people's interest level in Taylor Swift's new single. It's visibly painful to a nerd when someone gets a fact wrong.
Star Trek's Sulu, George Takei, on his rabidly popular Facebook page with over 3.5 million likes, recently unleashed nerd fury on Soulja Boy, who---in a mistake he will likely regret the rest of his days---posted a photo of himself and Takei on Instagram with the caption, "Star Wars swag." Imagine a sonic boom of nerds everywhere collectively facepalming.
"The biggest thing for me is the nerd rage, it doesn't matter if they don't know anything about Green Lantern but maybe they are the biggest Buffy fan, they can tell you anything, they can tell you the birthdates of all of the characters, everything," says Jay. "That kind of passion is what I associate with being a nerd. They are unapologetically passionate about what they like and they don't care if you don't like it, they'll try to convince you."
"Geeks are obsessed," says PigMonkey. "It's just not an unhealthy obsession, but you think it, you breathe it, you eat it, you sleep it and when somebody dares to contradict your knowledge, you sit down and you give them a good talking to."
Entertainment value aside, geek culture is increasingly pervasive.
"It's synonymous with popular culture," says John. "Geeks are telling you what's cool now, like, 'Go see Spider-Man, go see The Avengers, those are wicked movies.' You don't have to hide the fact that you play board games anymore."
The Grawood shows are raucous and packed, with loving fans filling the campus bar---sometime in costume (no doubt thoroughly confusing the odd tables of bros who wander in for a pitcher). GvN won your vote for best podcast in the The Coast's 2012 Best of Halifax readers' survey, also winning silver for the second year running in the best comedy night category. They use this popularity to give back---an upcoming event for Veith House is a more family-oriented affair than their live debates, an afternoon long board game marathon and auction, with all proceeds going to the charity. The amount of support from GvN fans goes a long way to illustrate how badly an event like this was needed.
"I think it's so important to have a platform and a safe space," says PigMonkey. "Which is something that geeks aren't used to having, or at least I wasn't used to having."
"I've had people coming from the valley or the outskirts of rural NS and they would come in specifically for GvN because they knew that there would be people that understand them," says Jay.
"There's power in numbers," says PigMonkey.
"Think about that scene in Mean Girls when they are going through the [cliques in school]," says Jay. "Imagine if they get to the nerd table and there's 100 people there, that's what I feel like, I feel like I'm with my tribe, I'm with my people."
"That's what it was always meant to be," says PigMonkey. "The outside world is always there, but here you can be who you want to be and we're not going to judge you for it."
Stephanie Johns is The Coast's arts editor and a big Lone Wolf and Cub fan.
---
As of March 1, Geeks versus Nerds has 50 podcasts for your downloadable perusal (available at geeksversusnerds.com/podcasts or on iTunes). That's a lot to get into all at once, so we asked The Lord High PigMonkey to give us a short list of must-listens.
10. Peanuts vs. South Park: Who is the toughest small town gang? "I just enjoyed imagining the fight round between these two, it did not disappoint."
9. Anakin Skywalker vs. Wesley Crusher: Who is the whiniest teen prodigy in space? "One word, Fa-bortion. Listen to the podcast you will understand."
8. Smurfs vs. Fraggles: Who is the mini master race? "This is another one that was close to my childhood, and just a funny idea for a match. The topic kept us giggling for weeks."
7. Sunnydale vs. Gotham: Which is the deadlier place to live? "Instead of who would win in a fight, our fourth round for this was to design a campaign to attract tourists to the city."
6. Marvin the Paranoid Android vs. C-3PO: Which is the most human-like robot? "Chris Nyarady"---now of the west coast GvN---"came on stage as an emo kid and brought down the house. Funny night."
5. Star Wars vs. Star Trek: Who has the better fashion sense? "One of the more off beat questions you could ask of the two most established North American science fiction/fantasy franchises. Getting to host this at the Nova Scotia Natural History Museum during their Out of this World exhibit puts this on the list."
4. Yoda vs. Dumbledore: Who is the ultimate school headmaster? "Teddy Wilson from InnerSPACE (space channel) does a great little rap in front of what was easily our largest audience to date."
3. Buffy Summers vs. Blade: Who is the most feared vampire slayer? "This one was a really tough one to call, the geeks and nerds were in great form and really funny."
2. Malcolm Reynolds vs. Han Solo: Who is the most dashing rogue smuggler captain? "The actor who played Malcolm Reynolds"---Nathan Fillion---"phoned into the debate and added his own two cents. His appearance generated over 1,500 downloads in a single day---the highest amount to date."
1. Batman vs. Boba Fett: Who is the biggest badass? "The argument that spawned the whole show. The one available on our website is actually the second time we did that show, the first time suffered from technical difficulties. We had to do it again, the topic kept coming up."