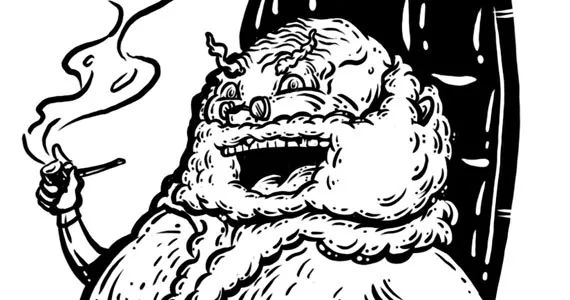 Geordan Moore, an artist who sells at the Seaport Market and who is responsible for some of the more, er, interesting artwork that has appeared in The Coast (for example, "Santa is the one percent," above), is a silk screener who until recently was sharing space, but now is looking to strike out on his own.
To that end, Moore is trying to raise money to buy a silkscreen press through the crowdsourcing website indiegogo.
"As a part of the campaign," he emails, "I'm officially launching my t-shirt subscription series, which I'm calling "The Quarrelsome Yeti Conservatory"." Starting in September I'll be releasing one new design a month for one year. There will only be 25-30 full subscriptions available. There are also half- and quarter-subs for people who don't need 12 new shirts. Each shirt in the series will be unique, but all of the designs will be unified by the theme: Cryptozoology."
As of today, Moore has reached just over half of his $5,500 goal, and he has 39 days left.