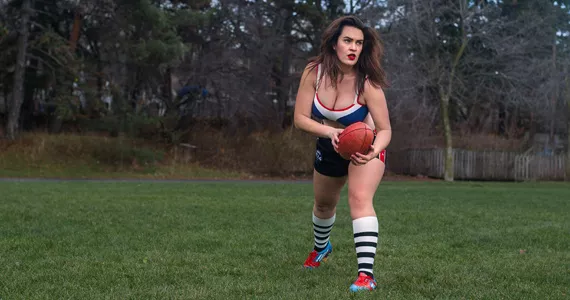 Thursday September 10, 8pm Sunday September 13, 4:40pm The Living Room, 2353 Agricola Street, $10
---
Pictou County native Gillian English's solo piece Get Around Me, one of three Fringe productions she's appearing in, is the unlikely story of a Dal theatre grad playing fullback for Team Canada in Aussie rules football. That journey came to an abrupt end with a sexual assault suffered at the hands of the brother of a fellow player.
How does Get Around Me—a comedy—broach such a sensitive subject? "Well, the whole hour isn't all sexual assault," explains English. "It's the story of how I started playing such a ridiculous sport and how it became a great love of mine. And that's comedic because I have a Master's in Shakespeare."
The response to the show, which English has performed in New York and Toronto, "has been wonderful." She hopes her outspokenness will inspire others to speak up. "The details make it about me, but it could be about anyone."
In addition to the award-winning Get Around Me, at the Fringe English is doing improv with comedy partner Brie Watson in Exit, Pursued By A Bear (at The Living Room), as well as starring in her other one-woman show, Drag Queen Stole My Dress (Friday, September 11 at 9:30pm, The Living Room). Before she heads back to Toronto, where she'll begin teaching speech and voice lessons at The Second City, English hopes to find some time during the festival to "randomly walk into a venue and sit down and see whatever's being put on next. It's great to see things without any kind of preconception. And it's a great way to make friends."