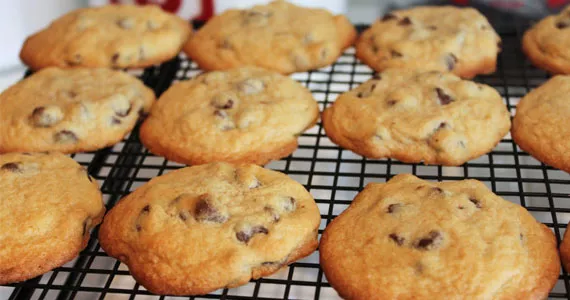 Karen Foster is very picky when it comes to cookies. "I'm easily disappointed," she says. "When I buy a cookie, I usually look for signs that it's soft in the middle. If it's rock-hard the whole way through, I'm not interested."
Imagining that she's not the only cookie dilettante in the HRM, she and her husband Brian are organizing the first ever Dartmouth Cookie Jam. Touted as a "part cookie sale, part cookie competition, all awesome" event, it's where bakers get to show off the best of their skills in various categories, from best chocolate chip to best sandwich cookie. Bakers are asked to make 26 cookies to give away, trade, or compete with. All other cookie lovers are asked to pay a $5 tasters' fee, which yields access to one dozen cookies of their own choosing.
"I've been baking since I was a kid," says Foster, who fondly remembers making snickerdoodles. "My dad really encouraged it because he got to eat the results." Her results are a little more sophisticated these days, as she's living on the saltier edges of the sweet side. "I'm probably going to bake a big batch of my famous salty oats cookies," she says. "Not for competition, but to have in case anyone drops out...or in case I need a snack."
Sam Bolton is a part-time standup comedian and full-time sugar fiend who'll also be Jamming this weekend. "I bake a great deal, more than is healthy for me to consume," he says. "At least on this one occasion I could bake and it would leave the apartment. Or that's the plan." Bolton is a little secretive about what he plans to bring to the table. "I don't want to tip my hand too much," he says, "but I'll be making some macaroons, with a secret ingredient. It's pretty secret. Super-secret. I haven't quite figured out what it will be."
If Bolton's plans aren't kiboshed by his rogue snacking, he looks forward to being in a room full of fellow cookie lovers. "I'm expecting to meet some people who value sugar as much as I do," he says. "I expect to hear a rousing chorus of 'Mmm' every few seconds."
But for Foster, there is more to this event than cookies or biscuits or whatever you want to call them. She and her husband are very interested in ways in which communities grow, and for her, the Cookie Jam was a way to blend her love of baking with community-minded efforts.
"My husband Brian and I just moved back to Dartmouth after nearly 10 years of living in Ontario," she says. "We got really involved in the different communities we lived in, and we knew that when we found our way back home we'd try to start something.
"I want Cookie Jam to be a small part of the slow, steady revitalization of downtown Dartmouth," she says, adding that she hopes it'll become an annual event. "It's happening, thanks to businesses like Two If By Sea, Sugar Shok, the Bike Pedaler, Caroline's Patisserie and Hiltz's Shoe Repair, Jacob's and Nectar. These businesses do what they do well, and they're committed to seeing the downtown area thrive."
For Foster, the Cookie Jam is a sweet lure for others to experience all that Dartmouth can be. "There is so much to do in Dartmouth, but we admittedly need more. There are tons of community-minded people here just waiting for things to do. The more these little events happen, the more it'll have a knock-on effect for businesses and tourism and the everyday liveliness of the area."