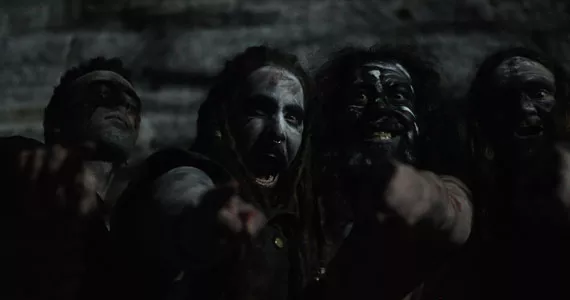 Cottus w/Hellacaust, Spew, Novichok Saturday, October 29, 10pm Gus' Pub & Grill, 2605 Agricola Street $8/$6 with costume
For the past few months Paul Beranger has been assembling a giant skeleton torso and head at his home. The head is surrounded by a crown of thorns set with a glass demon eye, all draped in custom made chainmail. The daunting creation looks like something out of your worst nightmares and it'll be a haunting backdrop on the stage of Gus' Pub on the weekend for the CD release and Halloween party for Halifax death metal band Cottus.
"Cottus usually wears costumes anyway, even when it's not Halloween," says vocalist Brett Campaigne, also known as Zed Victor. Sometimes it's makeup but occasionally props, like a giant horned helmet, make an appearance. This weekend Cottus also drops its second EP, Eater of Worlds. It features four songs—along with extra orchestral parts— offering eight tracks total.
"It's really heavy. Some nice tasty slabs of death metal with a little bit of classical sprinkled in between," says Campaigne.
The classical elements come from guitarist Beranger, a classically trained musician whose composing tendencies creep into the abominable and epic metal songs. It also helps having a bassist, Frank Turgeron, who also plays the cello.
"It's almost like a death-metal Pink Floyd experience, where you have a lot of dynamic sound," says Campaigne.
Interestingly, lyrics play a secondary role to the instrumentation when it comes to carrying the narrative of the album. The narrative is a continuously growing beast—Eater of Worlds picks up where the self-titled debut left off, sharing a melody with the first record's last song. And the closing track on the new album sums up the EP and alludes to what the next album will be like. Spoiler alert: It'll be water-themed. "We talk about a lot of big, destructive forces and very unnatural things," says Campaigne.
The artwork for Eater of Worlds is devastating, echoing the creeping death and destruction of the music. Illustrated by Hunter Fournier, it's inspired by the track "With Eight Eyes," "which is about this spider creature that lives at the core of the earth and puppets the human race," says Campaigne.
Staples of the Halifax metal scene, Cottus has been playing together since 2010. Beranger and bassist Turgeron both played together in the now defunct Inexoreath. Beranger initially brought in Campaigne—a former bandmate in North End Metal All-Stars—as a guest vocalist but he stuck. Longtime friend Nathan Miller rounds out the band on drums, a scene veteran formerly of Defective Perception and Vulgus.
Playing Gus' on Halloween is a tradition for the band. Releasing a new album is just another excuse to make things even more extravagant. "We're going to have quite the stage show," says Campaigne. "It's going to feel like Halloween."