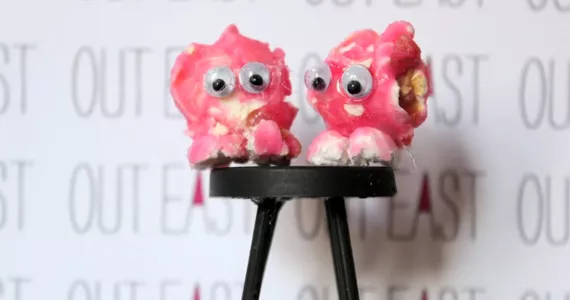 Krista Davis
"We saw a film that was awesome."
Pink champagne, popcorn and queer films take over the Neptune Studio Theatre for the OUTeast Queer Film Festival. by Veronica Simmonds
"There are a lot of bad gay films out there," Krista Davis says over drinks at Tom's Little Havana. "And people will watch them because they are gay." Jenna Dufton, sitting across from her, starts nodding, "Totally." Beside Dufton, Andria Wilson joins in agreement; "We're hungry to see that content whether it's good or bad."
But from June 14 to 17, Wilson, Davis and Dufton are promising to show nothing but the best at the OUTeast Queer Film Festival. The festival will be satiating that hunger for queer content with internationally acclaimed features, shorts and documentaries all screened at the Neptune Studio Theatre.
The idea for the fest came to the trio over another set of drinks, while they were discussing a film that had screened at the Atlantic Film Festival's That's So Gay series. Davis found the film to be problematic, portraying a one-dimensional view of what it is to be a lesbian. The discussion that came up from their disappointment with that film got these friends thinking.
"We were just kind of like, there's nothing here," Wilson says. "Other than the That's So Gay series there's no festival dedicated to queer films, let's do it before someone else does. So we did."
The doing part has been an organic exciting experience for these organizers. They each brought a solid set of honed skills to the table as they all work for the Atlantic Film Festival by day. Dufton is a programmer with "crazy" film knowledge, Wilson is a theatre and festival producer who can write a grant "like it's no one's business" and Davis is a filmmaker.
Together they have put together a program to be reckoned with. From the award-winning (and tear-jerking) documentary, Wish Me Away about Chely Wright, the first country music singer to come out as gay, to the exquisitely exceptional work, I Am A Woman that reflects on the experiences of women who had their sex changed in Casablanca throughout the 1950s and '60s, the festival will offer powerful, thought provoking work for Haligonian audiences.
"We don't want people to say 'I went to a gay film festival and saw gay content' but to say 'I saw a film that was awesome,'" Wilson says.
Another priority is to showcase and support local filmmakers. The Shorts Program will have exclusively Atlantic Canadian content and the festival is excited to have Morgan Strug as an emerging filmmaker-in-residence. With the support of OUTeast, Strug is working on a documentary project illuminating Halifax's drag community. A matinee presentation and collaboration opportunity will be held for Strug's film on Sunday June 17.
Wilson, Davis and Dufton's passion and excitement is contagious. Along with the support of their board they have worked tirelessly volunteering their time to make this thing happen. With parties and events every night, pink champagne flowing and adorable pink popcorn mascots OUTeast is set to be a fun and focused celebration of queer cinema.
When asked whether this festival is needed more than ever in Halifax's history, Dufton reflects on her past. "I grew up in a small-town in Ontario and I remember being completely starved for this type of content. I actually think that if I had had it it would have been easier for me. But I just didn't have it. This is still really important. We need to get our stories out there. It means a lot to me that we're able to do that."