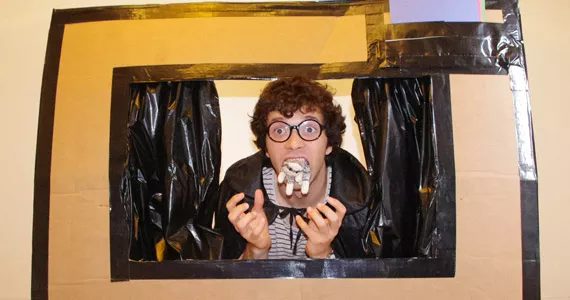 Strap in for Legoland's high-speed car chase.
Legoland is a musical about two bus-hopping, drug-dealing, ex-hippie runaways, Penny (Maggie Hammel) and Ezra (Henricus Gielis), who are forced to sing and dance as part of their community service. Their genre of choice? Vaudeville, which is "fast-paced, fun and predictably unpredictable," says the show's director, Gillian Clark.
Popular in the late 19th and early 20th centuries, vaudeville was a variety show offering everything from drama to comedy to dancing to singing, and gave its viewers a brief respite from the social and political realities of its time. Legoland differs in that it doesn't provide escapism but instead "smacks you in the face with the absurdities of western culture."
The show offered Clark a chance to reunite with Hammel, who she hadn't seen since graduating from Dal's theatre program in 2013. "I couldn't think of a better show to do at Fringe with two of my best friends—Maggie and Henri are incredibly smart and creative, so it was a perfect fit."
She says writer Jacob Richmond's script lends itself well to the feelings she hopes to inspire: "We want the audience to walk out of Plan B feeling like they have just partaken in a high-speed car chase. In space. While getting splashed with confetti."
< hr size="1">
Legoland
Plan B, 2180 Gottingen
Friday, August 29, 9:10pm
Saturday, August 30, 4:30pm
Tuesday, September 2, 7pm
Friday, September 5, 7:45pm
Saturday, September 6, 9:10pm