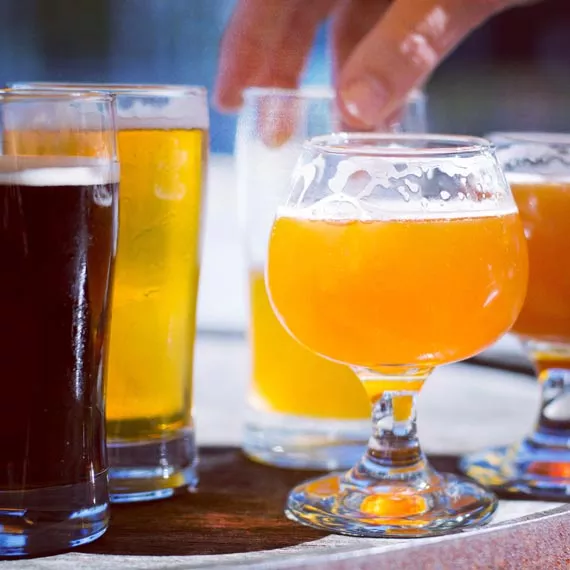 This is the kind of scene that awaits you on your bus tour.
The smoky flavour of Good Robot's Samsquamptch!, the hoppiness of Garrison's India Pale Ale and the malty aroma of Sea Level Brewing's Rojo Mojo Red may be more familiar to some Haligonians than others. Now, with the advent of Taste Halifax Tours' Beer Bus, curious connoisseurs (and generally thirsty people) can discover the flavours of many of the city's eclectic craft beers, with a knowledgable DD in tow.
The Beer Bus is just that, a tour that frees beer buffs of transport woes, bussing them between five of Halifax's craft breweries, brew pubs and beer bars—Gahan House, Garrison, Propeller, Good Robot Brewing and The Stubborn Goat. Each participant gets two five-ounce samples of a wide range of ales, stouts, porters and more at each establishment, along with snacks at the first and last stops.
"We've always received requests to do a tour like this," says Susan Downey Lim of Taste Halifax. "We met a lot of beer tour operators at a wine tourism conference in Virginia. Hearing their stories really solidified the idea." She emphasizes that the tour is as much about drinking in knowledge about the city's booming craft beer industry as it is about savouring unique brews. "You learn about the beer rather than just grabbing one." Downey Lim claims that her own tastes have grown from the experience, and cites Gahan House's Maple Whisky Porter as one of her favourites.
The Beer Bus' next trip is set for March 19 and it will be picking up steam heading into the summer. Downey Lim says as business grows, she'd like to offer the tour on more days, and expand to more locations, mentioning a potential Beer Bus for Dartmouth breweries.
---
Beer Bus
Mar 19, Apr 2, 16, 30 and every Saturday from May to October
3-6pm, $59
departs from Gahan House 1869 Upper Water Street
halifaxfoodtours.com