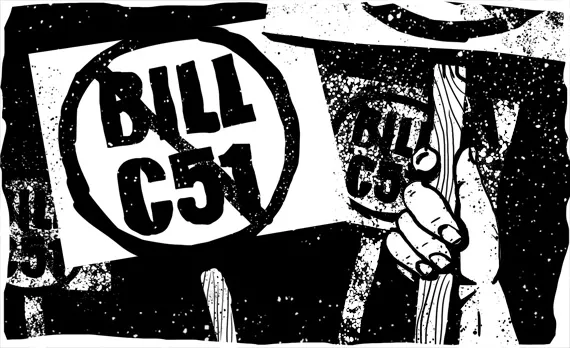 Fight back against Harper's terrorist propaganda.
Halifax will join cities across the country on Saturday to protest a bill giving Canada's intelligence agency sweeping surveillance powers.
A broad coalition of citizens and advocacy organizations are concerned the federal government's Anti-Terrorism Act will create a secret police force and impinge on democratic dissent. Simultaneous demonstrations are planned in cities across Canada on March 14 to educate the public about Bill C-51, says Krista Simon, a regional co-organizer of the planned day of action.
"It's imprudent of this government to be forcing any more omnibus bills through," she says, "and particularly this [bill] when so many experts are speaking out against it."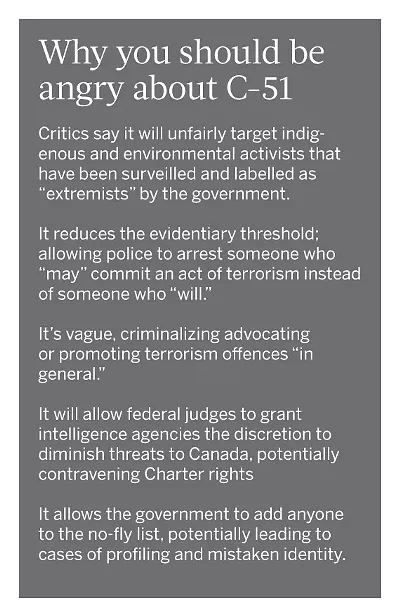 Over 100 academics have signed a petition asking Members of Parliament to amend or dissolve the proposed legislation, fearing its vague language will allow the Canadian Security Intelligence Service to detain any individual suspected of terrorist activity. Under the new legislation, any web content considered "terrorist propaganda" may also be removed by a court order.
"The move to prohibit communications which advocate or 'encourage terrorism offences in general' is troubling to me," says senior legal officer at the Centre for Law and Democracy Michael Karanicolas in an email. "Thirty years ago, these kinds of provisions would likely have criminalised support for Nelson Mandela's African National Congress."
The Conservative government introduced the controversial legislation on January 29. Initially raising eyebrows among legal experts, a growing opposition to the bill has been forming that cuts across political lines. A prominent gun-rights group is joining a privacy coalition in Ottawa at committee hearings this week to speak out against Bill C-51, according to Stefan Avlijas.
"This bill would elevate the Canadian Security Intelligence Service's powers to allow them to intervene in an internal, domestic manner, as a sort of police force," says the digital campaigner for leadnow.ca, an organization involved in planning the day of action.
"I am troubled by the massive expansion of powers and responsibilities for our security agencies, with no proper oversight for how they will be exercised," writes Karanicolas. "One of the key lessons we are meant to have learned from the appalling treatment of Maher Arar, who was tortured with our government's complicity, is the need for better accountability over our national security agencies. Bill C-51 is precisely the wrong direction to be moving in."
In 2002, Ottawa resident Arar was arrested at New York's John F. Kennedy Airport on his way home from vacation. Detained over suspected links to terrorism, the CIA deported him to Syria where he was jailed and tortured for a year. After a public inquiry in 2007, he received a $10-million settlement from the Canadian government and an official apology from prime minister Stephen Harper.
Liberal leader Justin Trudeau has said that, although he would like to see amendments made to the bill, his party will support it. The New Democratic Party stands opposed to it.
Megan Leslie, the NDP deputy leader and environment critic, says the bill would give intelligence agencies the alarming ability to disrupt wildcard protests—including those, for example, that might be planned against Bill C-51. "Terrorism is a real threat, but we can't protect our freedoms if we just sacrifice them," Leslie says.
The anti-terror legislation is currently under committee review in the House of Commons.
---
Day of Action Against Bill C-51
Saturday March 14, 1pm
Victoria Park, Spring Garden Road at South Park Street