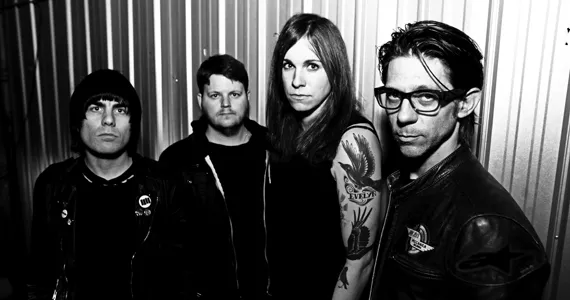 Against Me! w/Like A Motorcycle, Weekend Dads, Dyscontrol
Thursday, October 23, 8pm
Olympic Community Hall, 2304 Hunter Street
$40
---
In 2012, Florida aggro-punk band Against Me! announced that singer Tom Gabel was transitioning to a female identity and would be known as Laura Jane Grace. This year, the band released its sixth full-length album, the walloping Transgender Dysphoria Blues. It's melodic but aggressive, uncertain but sure, and an evolution that has made them one of America's most important punk bands.
"Finally there's actually something to be punk about," says Atom Willard, the band's fifth and newest drummer. "There's been such a long period of contrived anger and entitled upper-class white kids being mad at The Man, and it starts to feel a little disingenuous. It doesn't have much social value."
Punk's prominence in pop culture over the last couple decades has almost divorced the genre from its edgy political and ideological origins. But it seems Against Me! is using punk the way it should be used. "This is really something I can get behind and it's something that needs to be said," Willard says. "Because transitioning identity is not yet fully socially accepted or even smiled upon, and it's still uncomfortable for people. But you need to get out of that comfort zone to actually change things." Thematically, Transgender Dysphoria Blues is one of the first commercial albums of its kind. And since Grace's transition, which is a long process, Against Me! has seen an increase of fans who are also undergoing transitional identities.
"Maybe they were fans before, but they're coming to shows now because they weren't always able to show their true selves in a punk rock environment. Laura's really made that OK now, like, you are accepted here, and if anyone has issues with that, then we have issues with them," he says. "For me, it's like, I love music and I love good music," he adds, referencing his past bands Rocket From The Crypt, The Offspring and Angels & Airwaves. "But this is something I can believe in, like, the message that's being said and the way we're saying it. It just hasn't been said in the past."
Willard says it's been a perfect storm for him since joining Against Me!, from the ideal creative environment with Grace and the band, to their friendships and the intensity of their live shows. "It's going to be a high-energy show. We come out and absolutely play our hearts out. That's what we do every show," he says. "And we'll also take you on a little journey of the history of Against Me!"
---
http://www.againstme.net/