Ghajini
Rated NR 2008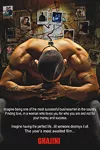 An Indian businessman sets out to hunt down a group of thugs who killed his girlfriend.
Film Credits
Official Site: www.rememberghajini.com
Director: A.R. Murugadoss
Writer: A.R. Murugadoss
Producer: Allu Aravind
Cast: Aamir Khan, Asin and Jiah Khan
Show Times
Sorry there are no upcoming showtimes for Ghajini
xxx - Deprecated in favor of GTM, above.