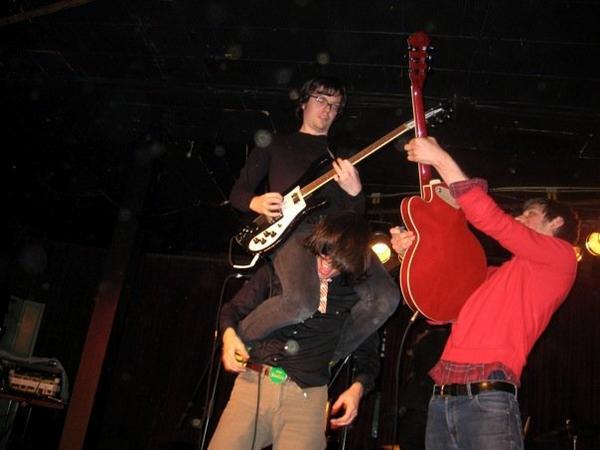 The Gideons, two apples tall
Local heartbreakers The Gideons are readying themselves (and their livers) for the official release show for their debut record, Hymns For Hers (with The Stance and PEI's New Royalty. February 7 at Gus' Pub: "the place where they have honed their chops and drinking problems for the past year.") This momentous evening approximately marks The Gideons' one year anniversary—-their first show alongside The Got to Get Got, Brent Randall and his Pinecones and Matt Reid and Friends took place February 16, 2008 at Gus'. The band warn the attending public to "expect some possible combination of the following: face painting, balloons, psychexploitation films/pulsating oils playing over the band, a dispensation from the Pope, smoke machines, seizures (drug and otherwise), and more (or less)." Guitarist/bassist/vocalist Josh Salter revealed the album's classic theme, "Girls. Breaking up with, falling in love with, stealing, letting go of, marrying. It is a concept album for the dumb." As any Halifax concertgoer knows, The Gideons' live show involves a lot of partial nudity, beer and human pile-ups. All of which usually responds well to being taken on the road. "We are going to try and tour a bit on this album in the summer," says Salter. "No promises though. We want to see our friends in Montreal, garage capital of Canada." But all these petty facts are trivial when faced with the meaning of life, are they not? "I have always thought that Charles Baudelaire said it best: 'Don't be martyred slaves of Time, get drunk! Stay drunk! On wine, virtue, poetry, whatever!' We also agree with The Rutles that 'Love is the meaning of life, life is the meaning of love,'" Says Salter. "Alternatively the meaning of life is contained inside our record somewhere. "
Coming up: an exclusive S&H - Q&A...