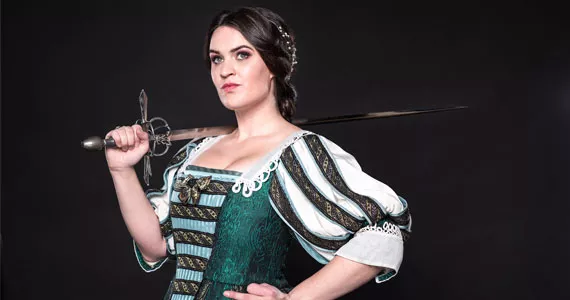 A Bitter Shrew Thursday, September 8, 6:30pm
Friday, September 9, 8pm Saturday, September 10, 10pm Sunday, September 11, 6pm The Company House, 2202 Gottingen Street $10
Drag Queen Stole My Dress Friday, September 9, 9:30pm Sunday, September 11, 4:30pm The Company House, 2202 Gottingen Street $10
Some people, when asked their greatest achievement, freeze. They can't decide between sharing traditional benchmarks or personal desires. Storyteller Gillian English has no such hang-ups, and she'll tell you her proudest moment without even being prompted: "I farted myself awake in a dude's bed after a one-night stand. I thought it was the best thing I had ever done in my life. I told my friends so fast. I'm surprised they didn't write it on my Facebook," she breathes through the phone from Toronto before breaking into laughter.
The Fart, as English refers to the incident, didn't end after the last slew of text messages bleeped on her phone. Instead, it became a centrepiece of English's part-comedy, part-theatre, storytelling show Drag Queen Stole My Dress. The piece, which shares other highlight-reel moments from English's dating life, is hitting the stage one last time in Halifax as English delivers a reprise performance after last year's sell-out run at the Atlantic Fringe.
"To bring a show to the same festival twice is pretty unheard of, so I am taking a bit of a risk," she says. To say English is a risk-taker would be cliche, but it would also happen to be true. Bringing back an "old" show to Atlantic Fringe (while also juggling a new one, A Bitter Shrew), seems less dicey than some of her other ventures: Growing up in rural Nova Scotia and then deciding to pursue a career in theatre, for example. Or moving to Toronto for love, and staying for art after the love fell apart—and writing what would become Drag Queen Stole My Dress.
That play "came from a place of anger," English says. "When I started writing it, I realized that the main crux of the story was this huge relationship that I had had. How it had shaped me and influenced my decisions. And, for years I had been saying I was fine and that it didn't affect me. That I wasn't gonna let that one person be an influence. But at the end of the day, they were."
The anger's gone now, English continues, but the underlying themes of relationships and expectations remain—with her latest work, A Bitter Shrew, picking up these threads where Drag Queen left off.
"Some people are raised Catholic, some people are raised Protestant or Jewish—I was raised feminist," English offers by way of explanation. "I got the title from a review I had of Drag Queen in Montreal. That's not the first time I've been called a bitter shrew, just the first time in print. Why is it that I am called a bitter shrew? Is it because I was the kind of kid that my teachers called 'aggressively bossy'? Is it because I've been 5'11" since I've been 12 years old? Who knows? But it's always what other people are saying about me."
Both Shrew and Drag Queen act as comedic cautionary tales (the former about a broken engagement and the mess that follows, the latter about, as English puts it, "an hour of me trying to get a dick and failing"). And both are emotional rides for the audience. Women have cried through English's monologues before, approaching her after performances to say she opened their eyes to how unhealthy their relationship was.
"I always say 'Don't get a divorce on my account, but if you are concerned that you are not enough or that you cannot live without the person, know that you are enough and yes you can.' If it takes me prancing around in a wedding dress that doesn't fit anymore and hasn't for many years then sure, I'll do it," English says.
And it seems the ill-fitting dress is a hit—with Drag Queen winning a Highly Commended Best Comedy award in Australia at the Adelaide Fringe last March. Keeping with her penchant for big risks, she's moving there after Atlantic Fringe wraps up.
"To my producer in Australia, I was like 'Do you want me to do Drag Queen? Do I have to bring that dress with me?' And she was like 'Yep! Sure do!'" she adds, showing that the biggest risk English ever faced—and won—was staying true to her own story, farts and all. a