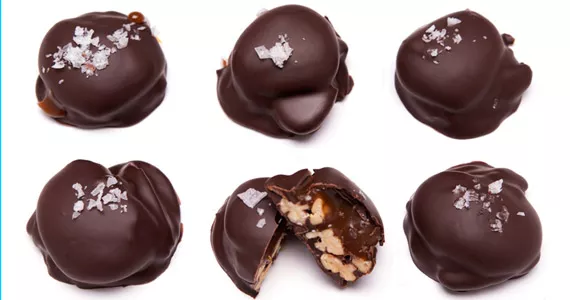 For a friend
If you're buying for a buddy, you should just cut the crap and give some good quality candy. Don't buy a bracelet they'll secretly hate or try to pick a sweater for them. Buying people things they don't want is what families are for.
There was a time when you might have said to yourself "Ooooh, I love Turtles!" but can we just admit that those ritzy, soft-shoeing reptiles are the worst? (Fun fact: Baz Luhrman's Great Gatsby was inspired by the 1980 commercial for Nestle Turtles*.) But the reality of those waxy, blandly sweet (ethically compromised!) chocolate clusters is closer to a turd than a turtle.
Cocoa & Honey's Fair Trade Sea Turtles (Historic Farmers' Market, 1496 Lower Water Street), with crunchy pecans, smooth caramel, dark chocolate and flaky sea salt are a marvelous real-deal version of those childhood favourites. Any of these organic chocolates, from bars to giant baskets, would make a friend happy.
Rousseau Chocolatier's (1277 Hollis Street) bright, open kitchen brings to mind the stainless steel glory of The Chocolate Line in Antwerp. Similarly, there are a lot of Belgian-quality creations in this shop, from moulded chocolate lollies in owl and lobster shapes ($3) to gourmet chocolate bars ($6.50) and crisp, delicate meringues ($6) dipped in dark or milk chocolate. This might be the best locally made chocolate available AND Rousseau's mastered the delicate wonder that is the macaron. So stuff some of this in a stocking and then stuff it in your mouths.
*No, it wasn't.
---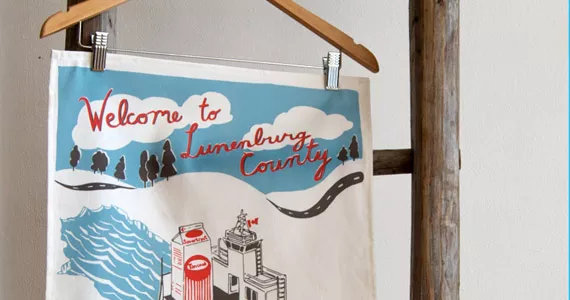 For a cook
If someone spends a lot of time in the kitchen, you can bet that they like kitchen accessories. Tea towels hit all the right holiday notes, whether someone wants to use them to wipe their counters or to decorate their walls. Kat Frick Miller's beautiful Barns of Nova Scotia and Welcome to Lunenburg towels ($25, Etsy) have a vintage appeal, while her prints, especially the Salt Cod series and Fish Trilogy ($35, Inkwell, 1658 Market Street), would make any kitchen a little brighter.
Heather Gionet's Heather Made It sewing company also makes tea towels, along with napkins, tablecloths, tea cozies, aprons, and oven mitts ($5-$30, Jennifer's of Nova Scotia, 5635 Spring Garden Road) in everything from Nova Scotia tartan to cats and owls, florals and Christmassy snowmen and elf patterns. The frilly, sweet bib and waist aprons of Emily's Aprons (Uptown Girl, 45 Portland Street) also come in a bunch of fun designs.
There are some other locally printed aprons available, too, like the Eat Butter branded ones at Two if By Sea (66 Ochterloney Street, $20-$25), and various designs, like a fun, vintage Bluenose Gingerale one, at Lost Cod's pop-up (5639 Spring Garden Road, $23). And don't forget: you can also use tea towels or an apron to wrap up a local cookbook or one of Basic Spirit's pewter bottle openers, corkscrews, measuring spoons or pewter accented cutting boards, made in Pugwash (Jennifer's of Nova Scotia).
---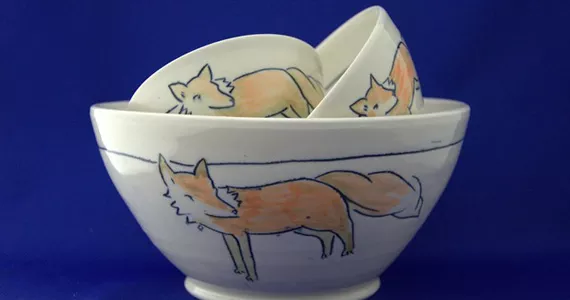 For a favourite
Who doesn't love the holy trinity of Halifax junk food: pizza, donair and garlies? Put together a snack-based pizza box stuffed with Colin Canning's amazing donair party pillow ($25, Plan B, 2180 Gottingen Street) and a donair or Pizza Corner shirt from Dartmouth Clothing ($25). Sadly there are no garlic fingers-inspired gifts, but you can always order some!
If your favourite food fiend is also into art, and loves cartoons—and really loves cartoon foods!—the ceramic Duff beer cans by Kaylea Reeve ($60, Dart Gallery, 127 Portland Street) just might get a "woo-hoo!" on Christmas morning. Or if you want to go for a high-end stocking stuffer, Evgenia Makogon's mini paintings of cupcakes and teacups can double as tree ornaments and are also available at Dart ($28-$45).
Bronwyn Arundel's hand thrown pottery ($10-$80, Kept) is decorated with whimsical woodland designs, from forests full of furry buddies to cats, hedgehogs, foxes and squid. She makes deep, beautiful bowls and mugs you need both hands to wrap around, all beautiful gifts that can be appreciated at every meal.
For your absolute favourite person, you'll want to go for a forged chef's knife ($130-$140) from Pictou's Grohmann Knives. Heavy in the hand, with a strip of steel running through the rosewood handle, these world class knives can't be beat. For high rollers, there is a forged seven-piece kitchen set ($670) that comes in a Canadian oak block.
---
For a party
Shake people out of their rum-and-eggnog haze by bringing ingredients for some seasonal drinks. Ironworks vodka ($24, Premier Wine & Spirits, 1535 Dresden Row) and Sledding Hill's lavender simple syrup (Pete's, 1515 Dresden Row) is a good start to a signature martini. And chef Jason Lynch has launched a line of bitters, including a Wild Violet & Green Juniper variety ($8, GrandPreWines.ca) that should bring any gin cocktail to another level.
But if you think the allure of the nog is too strong, Sea Fever Rum—though not distilled in NS, it is blended and distributed in Guysborough—has a spiced and a maple coffee rum ($36, NSLC) that can shake up the status quo. Or, if none of those things appeal to you, maybe you can just concoct some holiday hijinks and kidnap local bartender Shane Beehan.
---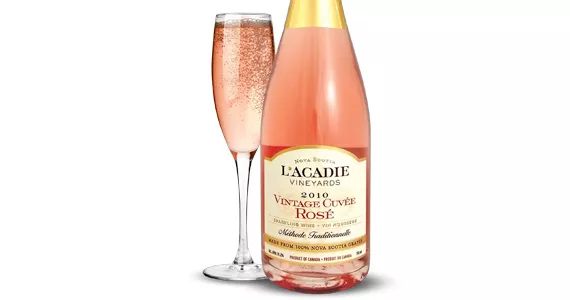 For a host
Miss Manners always said never to show up somewhere empty-handed, and while that saying doesn't actually always hold true, at Christmas it never hurts to bring a small gift to a drop-in or dinner party. An extra bottle of wine is never a bad thing.
There are lots of lovely local wine options to gift this year, from Benjamin Bridge's robust Taurus ($26, Bishop's Cellar, 1477 Lower Water Street) to the bright notes of Avondale Sky Bliss ($20, NSLC) and the effervescent Blomidon Crémant ($22, Bishop's Cellar). Two things that go really well with most of our holiday food favourites: rosé wines and sparkling wines. So L'Acadie Vineyards' 2011 Vintage Cuvée Rosé ($26, NSLC) is an especially good choice to pair with a menu you're not sure about, and to please pretty much any palate.
Wine isn't the only way to bring holiday cheer to a get-together, though: jams and jellies are a great host gift. Homemade is always a great way to go, but Pat's Preserves (Seaport Farmers' Market, 1209 Marginal Road) and Helen B's Preserves (Kept, 127 Portland Street) have great signature options that go well with other tasty local treats. Helen B's rosy pink Muscat jelly is wonderful with foie gras from Ratinaud (2082 Gottingen Street), and Pat's sweet and tangy pepper jelly is perfect with nutty gouda from That Dutchman's Farm (132 Brown Road, Economy).