Anyone else feeling it's been waaaaay too long since we've had a day off? This weekend's Easter break comes 111 days after the last statutory holiday, New Year's Day. That stretch of winter drudgery gets broken up in several provinces, but not in Nova Scotia. Here we've got the fewest holidays in the nation, making "Canada's Ocean Playground" a worker's hell.
There are five federal holidays all Canadians are entitled to: New Year's Day and Good Friday, plus Canada Day, Labour Day and Christmas Day. Every other province and territory adds to the five with provincial stat days---Newfoundland at the low end adding one, Saskatchewan adding another five to have the country's most. Nova Scotia has a half-day off for Remembrance Day, lots of businesses and organizations give Victoria Day and Easter Monday off, stores aren't allowed to open on Boxing Day or Thanksgiving, Halifax is one of the municipalities that observes Natal Day---but Nova Scotia does not have even one guaranteed provincial holiday.
This situation might have been OK when Nova Scotia was the only province that banned Sunday shopping. Arguably we had 52 more holidays than the rest of Canada. But when the ban was lifted in 2006, workers lost all those days and gained nothing in return. And this year's crazy run from January 1 to Earth Day/Good Friday makes clear how much we could use a midwinter break. (For that matter, having the day off on Earth Day shows how fitting a holiday that would be. But let's deal with February first, since it's not good Earth Day spirit to be greedy.)
Diana Whalen, the member of the legislature representing Halifax Clayton Park, deserves credit for her indefatigable work on the February holiday issue. The idea came up when Whalen was talking with a constituent, not long after she was first elected in 2003. The constituent was back in Nova Scotia after living out west, and praised Alberta's third-Monday-in-February holiday, Family Day. Initially skeptical, Whalen did her research and became a believer.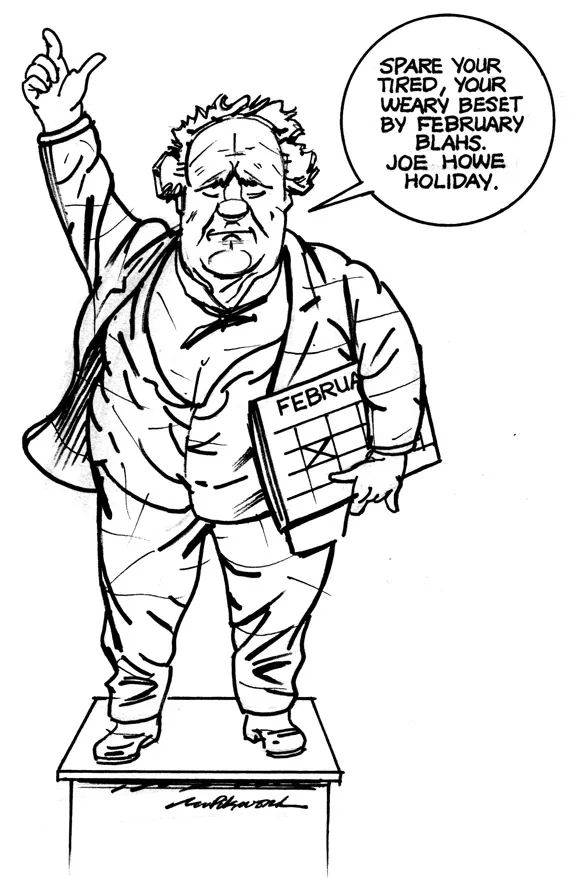 There is considerable precedent for a break in February---America has had Presidents' Day since 1971, Alberta started Family Day in 1990---and the mounting evidence is that a day off makes people happier, healthier, more productive workers. Whalen's only hesitation about following Alberta's lead was the name. "Family Day too generic," she says. "It's not interesting. If we're going to have one Nova Scotian holiday, let's make it Nova Scotian." So in 2005 she proposed a bill in the legislature to create Joseph Howe Day.
In 2005, PC premier John Hamm passed on Joe Howe Day. Whalen tried again. And again. And again. Hamm's PC successor Rodney MacDonald didn't bite, and neither did his successor, Nova Scotia's first-ever NDP premier Darrell Dexter. Meanwhile, four other provinces have adopted a February holiday. This Thursday, April 21, Whalen is reintroducing her bill. She thinks this will be the sixth time---she's lost count, but hasn't lost hope for a February break. "I really believe it's the right thing to do. I'm offended for the people of Nova Scotia."
If you'd like a February holiday sometime in Nova Scotia, tell your MLA or Darrell Dexter (premier@gov.ns.ca) to pay attention to Whalen's latest bill. If you'd like a February holiday immediately, go work for the MacLeod Lorway Group.
The Nova Scotia insurance company closed its nine offices February 21, creating a holiday for its workers the same day Americans and most Canadians have theirs. The spark came from Diana Whalen, talking about the February holiday on TV. "Our CEO thought it was a brilliant idea," says Jennifer MacLeod, the MacLeod Lorway director of marketing and development. As MacLeod explains, there's a price to hiring new employees. To replace an entry-level job like a receptionist costs the company 50 percent of the job's salary. Replacing a middle manager costs 150 percent of their salary. And a new senior executive costs 400 percent on top of their pay. It costs money to give people the day off, says MacLeod, but because that day makes people happy they're working for the company, "we are maybe saving money."