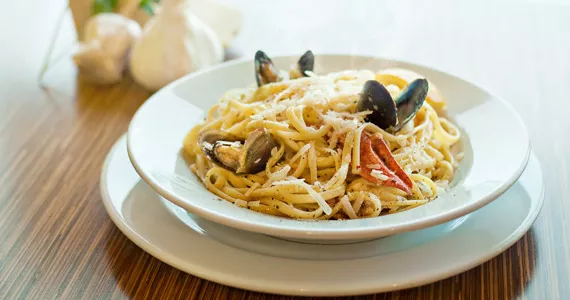 Ingredients
250g gluten-free linguini (about half of a standard 500g package)
2 tbsp butter
3 finely chopped garlic cloves
2 finely chopped shallots
½ tsp dried chili flakes
2 cups white wine
1 cup heavy cream, 35% (optional if you are dairy-free)
1 lb locally sourced mussels
1 live lobster (1 or 1 ½ lb) OR ½ lb lobster meat
1 cup freshly grated Parmesan cheese
---
Method
Steam live lobster in large stock pot with two inches of boiling water for 10 to 12 minutes with lid tightly sealed. Let cool (about 15 minutes) then remove all meat from the claws, knuckles and tail. Set aside body and remaining shells and legs for stock if desired. (Or, use half-pound of lobster meat already de-shelled.)
Fill a large stock pot with water and bring to a boil for pasta (leaving a few inches for water to boil without splashing out of the top). Once boiled, add linguini and cook for time indicated on package. Once cooked, strain and serve immediately.
While waiting for your pasta water to a boil and pasta to cook, sautee chopped garlic, shallots and chilli flakes in butter (or olive oil if you are dairy-free) on medium to low heat until shallots until are translucent and tender and garlic is slightly browning. Be careful not to burn the garlic. Add white wine and bring to a boil then immediately add mussels and cover to steam. Cook for about five to seven minutes or until the shells are fully opened. Add cream and toss until evenly combined.
Add lobster meat to warm sauce just before serving and toss lightly until combined. Sprinkle with salt and pepper to taste. Pour over linguine (or other pasta), top with freshly grated Parmesan cheese and serve with market fresh baguette from Boulangerie La Vendéenne and a side salad.
Total prep time: 5 to 10 minutes