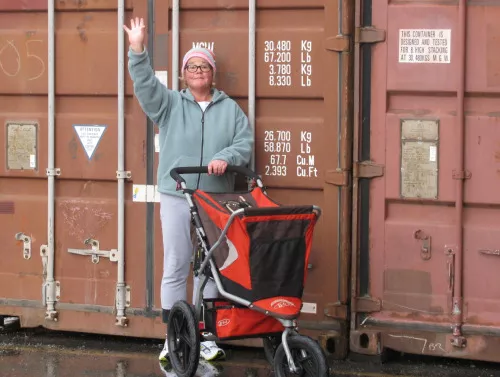 Day 0 Helena, Montana April 30, 2010
As Jodie Foster kept saying in Contact, I'm good to go. I have been outfitting and provisioning in Helena, Montana since Tuesday night. Bob (the carrier, not, alas, the cat) arrived in perfect tick from Philadelphia thanks to Jill. I now have everything I really need.
Yesterday there was a blizzard and the wind has been fierce since I arrived, but today the snow is melting (down here, anyway) and the wind is gone. It's a beautiful sunny evening. I really do not think I will be cold. I have enough clothes plus good sleeping bag, Thermarest Proplus pad and Kelty Streamside 2 tent (which I got off a guy for 25 bucks). Everything fits into Bob, and as I go along and develop methods of packing and unpacking, it will fit even better.
The sky is huge here, and to me, thrilling. I can see the hills to the north, where I will go tomorrow, blue and white. It's Lewis and Clark country, which is terrific because I have a thing for that expedition and last June had the chance to explore Fort Clatsop on the Oregon Coast. I really look forward to the L&C sites around Great Falls.
Bob has a Cateye bike computer installed, with the sensor on the left rear wheel. I am very happy with the problem solving I did to get that done. On a test jaunt 3.1 mph was my average speed. Max. speed was 6.3 mph, which I believe happened when I scooted across six lanes of traffic to avoid an early arseful of fenders. So, I should be able to report with mileage. I think Cascade will be my first possible chance to post again, and I might be there in four days or so. Or maybe it won't be. I'll write again as soon as I can.