Grateful Dead Meet Up 2012
Rated NR 150 min. 2012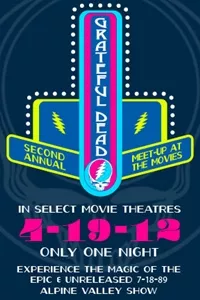 NCM Fathom and Rhino are partnering once again to bring the Grateful Dead back to theatre audiences nationwide for the second annual Grateful Dead fan meet up. The Fathom Event reaches deep into the Grateful Dead vault to present a never before seen iconic concert captured during one of the band's favorite tour stops Alpine Valley Music Theatre on July 18, 1989. This was the show directly following the bands famous Downhill from Here performance. This concert has never been released publically before or circulated on video in any format. The event features the complete concert with two and a half hours of music.
Show Times
Sorry there are no upcoming showtimes for Grateful Dead Meet Up 2012
xxx - Deprecated in favor of GTM, above.