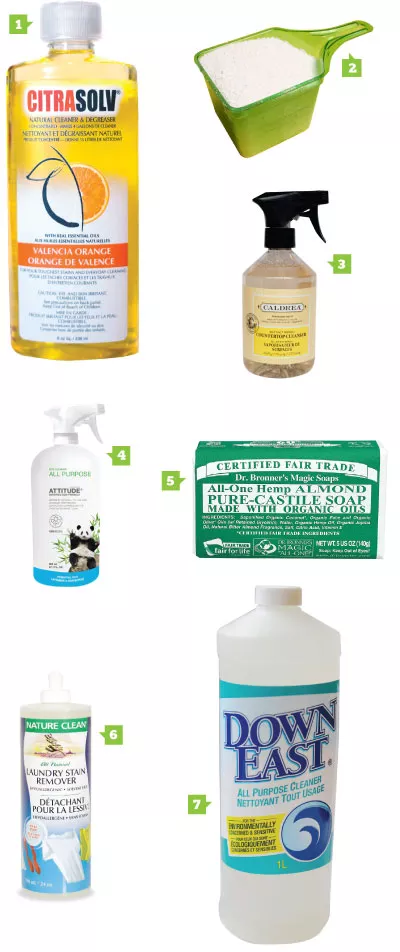 1. P'Lovers
Park Lane Mall, 5657 Spring Garden Road
Citra Solv Concentrate $12.95/$9.95
A versatile citrus cleaner with a "a sweet, juicy and delightfully effervescent scent" that you can dilute for all-purpose cleaning or use at full-strength for the tough stains around the house. A 256ml bottle is $12.95, or a pre-diluted spray bottle is $9.95.
2. pur alternatives
puralternatives.ca
Earth Elementals Rosemary Lime Laundry Soap $13 (2 lbs)
A natural, low-sudsing laundry powder, vegetable- and mineral-based and 100 percent biodegradable. It contains no petrochemicals, synthetic dyes, or fragrance and can also be used for all-purpose cleaning---counters, bathtubs, sinks, floors and walls.
3. Carbonstok
1235 Barrington Street, 404-7288
Caldrea Countertop Cleanser Seasalt Neroli $12-$16
Coming in a variety of fragrances---including ginger pomelo and lavender---it includes a special vegetable protein extract, a naturally fresh way to remove odours from kitchen and bath with a simple spray. It's also biodegradable and phosphate-free.
4. The Healthy Bug
3514 Joseph Howe Drive, 454-2225
Attitude All-Purpose Eco Cleaner $5.69
One of the many eco-friendly products from this Quebec-based company---including everything from dishwashing detergent to shower-curtain cleaner---this petrochemical-free, colour- and dye-free cleaner comes in 800ml and spray bottles
5. Super Natural
5755 Young Street, 454-9999
Dr. Bronner's Magic Soaps $4.99-$20
Pure castile oil-based soaps out of Escondido, California, available in bars and liquid form. Safe for skin and hair as well for scrubbing floors. A bar is $4.99, or purchase in liquid at 32 ounces ($20) or 16 ounces ($12).
6. Health Basket
978 Cole Harbour Road, 462-3765
Nature Clean Laundry Stain Remover $8.65
Non-toxic and hypoallergenic cleaner, ideal those with allergies or chemical sensitivity and safe to use on infant's clothing, too. Can be used on rugs, carpets, upholstered furniture and auto surfaces.
7. Grainery Food Cooperative
2385 Agricola Street, 446-3301
Down East Cleaning Products $4.80
Made by Bebbington Industries in Dartmouth, Down East offers dish soap, laundry soap and home cleaning products that are scent-free, hypoallergenic and environmentally responsible. (They also offer refills, so bring back your bottle and get it topped up for only $2.80.)