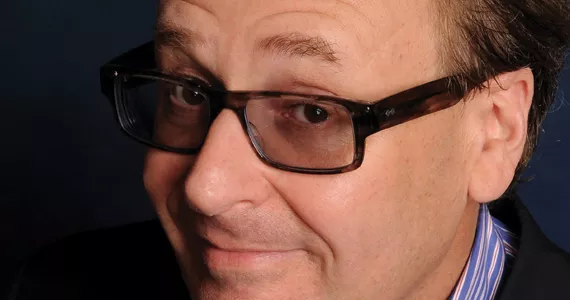 Comedy fans and seafood restaurants take note: bespectacled stand-up Greg Proops is coming back to town and bringing his podcast with him. The diamond-sharp comic, probably best known for his appearances on Whose Line Is It Anyway?, returns to appear at the Ha!ifax Comedy Fest.
In between those shows, he'll also be treating patrons of The Carleton to a live taping of his sprawling, sophisticated and wickedly funny podcast, The Smartest Man in the World. Not even a year old, the podcast has taped in front of small audiences all over the world, and features the comedian holding court over his spectators with dazzling riffs on a multitude of topics both high and low brow. The largely improvised hour of stand-up material effortlessly blends literature, pop culture and history.
It's also funny as all hell. Proops' mile-a-minute mind can shift easily between such diverse bits as memories of Foreigner concerts, Aldous Huxley's bitchy correspondence with George Orwell and even impressions of a syphilitic Al Capone.
In a previous edition (which you can listen to here), Proops took the time to regale the crowd with fond memories of the last time he was in Nova Scotia; a location the Hollywood-based comic admires for being "one of the few places on our continent with a Latin name." A shellfish fan, he also had kind words about our "ridiculous" seafood, including a shameful admission to treating himself to a dozen oysters and a whole lobster dinner on a previous Halifax visit.
Shellfish, Latin names and likely a few dozen other topics, could all be on the menu April 27 when Proops' signature whirlwind of vodka-soaked wit touches down at The Carleton. Tickets are a ridiculously cheap $7.50, so get yours soon. --Jacob Boon