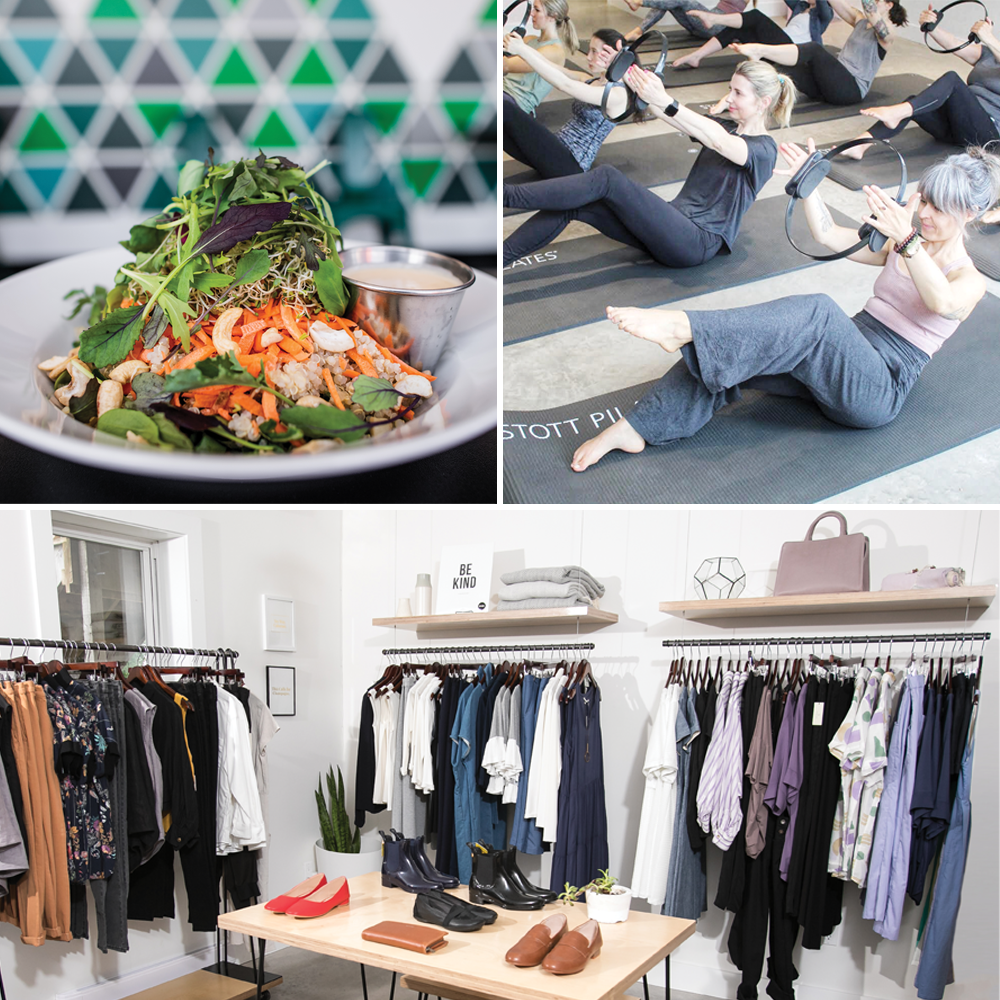 Sustainability is a State of Mind
We've seen the slow food movement take off, we've removed plastic from our kids' lunches, and we don't want chemicals in our beauty products–but have we stopped to think about how our clothing is made? Shop in alignment with your values at Sattva Boutique–where sustainability is stitched into the fabric of their atmosphere.
Sattva brings four pillars to how they source their clothing: sustainability for the planet, ethical fair trade production, local accessibility and social interest. This local shopping alternative shows the little steps that we can take to incorporate more mindfulness into our wardrobes.
Their professional and skilful stylists educate shoppers in an approachable way, while helping to achieve that staple look and feel connected to our pieces again. Sattva's modern classics transcend seasons, are timeless, ageless and work with us when our bodies and lives change. Sattva's quality pieces are with us for the long haul.
Sattva Boutique, 2453 Agricola Street
---
Accessible Nutrition
The fresh food at Springhouse continues to inspire us to eat healthy more often, thanks to the largest plant-based menu in Halifax. The restaurant on Gottingen is bright, light and filled with plants. Come in to grab a smoothie or wrap for take-out, or stay and enjoy a three-course meal.
We love the loaded mashed potato appetizer, noodle bowl and maple almond cheesecake for dessert. Pick up some groceries for your own home cooking like cashew parmesan and coconut bacon, and join for one of their nutrition and cooking classes to learn some new skills.
There are plenty of ways to enjoy Springhouse on the daily without breaking the bank or compromising that "treat yourself" feel. You can even order delivery on Uber Eats.
With Springhouse's incredible taste, affordable meals and friendly staff, it's safe to say that we know what'll be on your menu for today...and tomorrow.
Springhouse Inc., 2290 Gottingen Street
---
On-brand
When was the last time you had a shopping experience that was geared to enhancing your authentic personality and beauty? Boutique Zekara's goal is to create a look and feel that truly expresses who you are.
After 20 years in the fashion industry, owning this boutique and the Saint John's location was a dream of Donna's–she loves meeting clients through the business and helping them to be unforgettable. Her constant stream of brands and products brings a new edge to Halifax's fashion scene. She and her terrific team even offer a make-up and skincare studio featuring the Lifeance natural skincare line as well as Merle Norman Cosmetics.
For the Zekara team, it's all about building relationships with their clients and being able to provide them with key fashionable items to build or complete their wardrobes.
The treasure hunt at Boutique Zekara never ends–every time you come in, you're sure to find a new game-changing piece.
Boutique Zekara, 2698 Agricola Street
---
Printing Ideas
Fresh Prints Custom Apparel has been our go-to screen printing shop for the last decade, where you can bring your group or businesses closer together with the art of t-shirt design.
No design is too outrageous. Fresh Prints will take the idea from your brain and plug it onto a shirt in no time. You can get a shirt made for any major occasion, like coordinating your sports team with the right logo, or setting up local events with matching festival tees. If you're feeling the spontaneous need for a quality tee, their retail boutique houses locally designed apparel such as North Beast and Scotian Original, so you can just grab and go.
Fresh Prints isn't just involved with their business–they sponsor and support other local businesses events such as Nocturne, Christmas Daddies, and Halifax Pop Explosion. Leading with community at their forefront, Fresh Prints brings a little more heart to Halifax.
Fresh Prints Custom Apparel, 2411 Agricola Street
---
Home-cooked Deli
The smell, the taste, the family feel—with one bite, you'll be transported back to your mother's kitchen. Hali Deli is a place where food meets nostalgia, and where you'll feel right at home.
With comfort and ease at the forefront of the deli, the hardest decision you'll have to make is between all of their delectable dishes. Inspired by the simplicity of food from Eastern Europe, Lithuania, Russia and Hungary, the food is anything but plain. The tangy flavours mixed with sweet in their cabbage rolls, the warm matzo ball soup or signature smoked meat eggs Benny are enough to get you hooked.
Have a seat, and enjoy meals made from scratch. It's like eating at home (only the food is better!). Coming into the deli is being a part of north end Halifax history, and if it's not part of your routine yet, it will be now.
Hali Deli, 2389 Agricola Street
---
A Twist on Comfort
Are you a creature of habit? Why not go out on a limb and let Hopyard Beer Bar shake up your life? Don't worry, they're not asking you to risk too much–they'll just offer you an extensive regional beer list that rotates daily. Since they've built foundations with breweries in all four Maritime provinces, you'll get some first tastes of the freshest brews.
From a culinary standpoint, Hopyard will tickle your taste buds with their playful spin on Southern BBQ, Italian, Indian, Mexican, Tokyo Street Food and 90 other evolving menu options. Take your time and let that food baby settle while you flip through their extensive collection of vinyl. With the help of Taz Records, Hopyard is always bringing new artists to your ears.
With the comfort of familiarity and a dash of rotation, you don't have to worry about choosing a new location for you and your friends; Hopyard does the work for you.
Hopyard Beer Bar, 2103 Gottingen Street
---
Local Love
The cool weather is here and that means reconnecting with our favourite bar. We can't help but gravitate towards The Local for trivia on Mondays, jazz nights on Wednesdays, Garrison Breweries Live Thursdays or the Sunday family-friendly matinee. Nothing says autumn like grabbing a pint of a local brew with an afternoon of pool, ping pong, shuffleboard or a hang in the warm flower-filled atrium.
Let the relaxing atmosphere invite you over for their signature pizza and daytime fun with friends, and then come back downstairs to The Seahorse Tavern to let loose and unwind from your long week. Their stage is home to our classic Halifax bands and DJs, and you know they'll throw a new artist into the mix. We can always count on them to have the next big lineup we were looking for.
Get your dance on during any regular night or stop by for one of their theme nights. Who could say no to Retro Night's '80s-style neon colours and big, messy hair? The best memories are made right at The Seahorse.
The Local / The Seahorse Tavern, 2037 Gottingen Street
---
Working With Your Body
Our schedules are busy, and our bodies are stressed; so why have our workouts been stressing us out even more? The Pilates Barre Halifax gets your body the workout it needs, while moving towards lowering your stress levels.
Meet the "self-care" of workouts that will get you in shape without feeling depleted afterwards. You'll feel like you're putting in the work, but with an added softness.
Their bright, open and airy vibe, combined with the soft pink palette, will instantly relax you and remind you why you came to work out in the first place: to find peace and strength.
The incredible instructors are certified and experienced and include chiropractors, massage therapists, as well as educators in the Pilates world. You'll know you're in good hands with leaders who are invested in your wellbeing, who make sure you get an individualized experience in an intimate 12-person group setting. The Pilates Barre is the place for people who want to turn their go-go-go into flow-flow-flow.
The Pilates Barre Halifax, 5649 Hennessey Street
---
Game on
What does Propeller Brewing Company mean to you? Your first thought might go to that unmistakable taste that you can only get from their handcrafted beverages. Without a doubt, anyone who has visited Propeller's Tasting Room knows that it stretches beyond a best-selling microbrew–it's all about that ambiance.
Propeller is where you can sit and unwind with friends or on your own. There's no judgement if you just want to indulge in a night of gaming action in their new basement arcade, open Thursday-Sunday from 4pm until close. Propeller loves providing that comfortable space for all, which is why Wednesday nights are reserved for ladies/non-cis men to get their pinball on.
With rotating games like Jurassic Park pinball, Big Buck Hunter Safari edition or Narc, you won't want to leave. And with Propeller's Friday and Saturday hours extended to midnight for pints and take-home brew options, you'll never have to!
Propeller Brewing Company, 2015 Gottingen Street