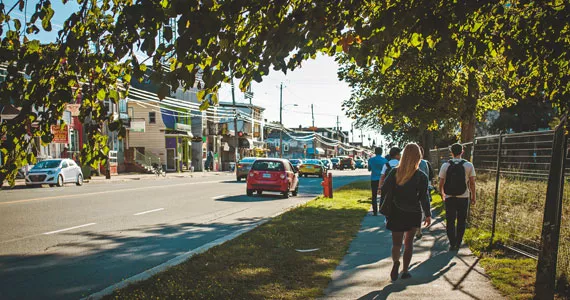 Everyone—and we mean everyone—has experienced Quinpool Road.
You're heading to the Armdale Rotary? The Emera Oval? Downtown Halifax? You're likely going through Quinpool. You're a Dal/King's student and you need, well, anything... you're going to Quinpool Road.
---
Quinpool Road is a unique area, as it's entirely focused off one large, arterial road. Housing an eclectic group of businesses, Quinpool features historically-entrenched restaurants, shops with specialized products, the common amenities, as well as newcomers to the scene, including Dilly Dally Coffee Cafe and Riot Snack Bar.
---
One theme that is constant among every locale on Quinpool Road is community. Everyone works together and everyone works to make the area an overall better place.
This includes the Paws Here on Quinpool campaign, which allows patrons to bring their dog into participating shops, as well as the upcoming Quinfest (this Saturday, September 17), which will feature games, food samplings, sidewalk sales and a doggy carnival.
---
A true pioneer of the food industry, King of Donair has been a staple of the Quinpool Road food scene since 1973.
Still sporting the same look, feel and delicious food as they did when they opened, KOD provides an old-school flavour combined with twists on the classic donair.
While their namesake donair is the main attraction, KOD has many other mouth-watering menu items to suit your preferences, including garlic fingers and pizza.
While it long has carried the stigma of a late-night meal, the donair is actually wonderful anytime, and the staff at KOD truly love seeing people—whether university frosh or retired seniors—coming in and experiencing their first donair...any time of the day. King of Donair, 6420 Quinpool Road
---
For Athens Restaurant, everything is based around family. Family owned and operated since 1982—nearly 35 years—Athens is run by Vange Panopalis (whose parents opened the restaurant and still help out), working hard to provide a low-key, enjoyable atmosphere for neighbourhood families to enjoy a delicious meal.
Athens helped spark the popularity of Greek cuisine within Halifax, powered by their famous souvlaki dishes (they have four or five different styles) and their perfection of succulent lamb dishes.
Athens also is open at 8am for breakfast, allowing customers to enjoy true Greek hospitality, regardless of what meal you're having. Athens Restaurant, 6273 Quinpool Road
---
When you're looking for a one-stop shop for holistic care and health-conscious products, look no further than Organic Earth Market. The largest health food store in Atlantic Canada, Organic Earth has spent more than 20 years offering typical groceries, organic supplements, bulk grains and fruit, locally sourced products, plus a number of weekly workshops and demonstrations.
Also offering a full juice bar and a coffee shop, Organic Earth has everything needed to maintain a healthy lifestyle. Nothing is more popular than their cosmic cookies, which are vegan and loaded with nutrients... they sell nearly 300 per week!
---
During the upcoming Quinfest (Saturday, September 17), Organic Earth with be providing samples of their vast product offerings. Organic Earth Market, 6487 Quinpool Road
---
Regardless of age, we all still have a creative itch that occasionally needs to be scratched. Thankfully, Clay Cafe is there to help us expand on that creative spark. A "Paint-Your-Own Pottery Studio," you can paint anything from figurines to plates, bowls and mugs (with more than 300 shapes to choose from). Paint your masterpiece in one sitting or spread it out over multiple visits, and then have owner Martin Ross and his staff glaze and fire your piece in one of their kilns.
All items at Clay Cafe are dishwasher- and microwave-safe, and they are open late so you can visit whenever is convenient for you... because let's be honest—where else can you relax, hang out with friends and have a coffee while creating your own personalized coffee mug? Clay Cafe, 6413 Quinpool Road
---
When Mike Munro and Maxine Jeffrey launched Therapeutic Approach, they strived to create an approach to health that is sustainable throughout their customer's lives. Munro, a physiotherapist and certified yoga teacher, and Jeffrey, a certified yoga teacher, occupational therapist, kinesiologist and currently studying osteopath, have a depth of knowledge, but they continually work to learn the most up-to-date techniques and wellness methods to provide the best care possible.
---
Closing in on two decades on Quinpool Road, Therapeutic Approach offers a yoga therapy program like no other. With Munro and Jeffrey able to be both health professionals and certified yoga teachers, they are able to provide proper diagnosis and easily address health concerns—leading towards their main goal of helping people be on the road to better health, all with a positive approach that is perfectly suited for each individual. Therapeutic Approach Health Centre, 6156 Quinpool Road
---
Oxford Learning offers a unique, innovative and educational service that goes beyond tutoring; the goal is to actively change people's lives with individualized education.
Oxford believes all children are capable of learning, regardless of any challenges they may face. The individualized nature of Oxford's programming has created years of success in helping students, even those facing the greatest learning struggles, overcome great obstacles and make serious academic gains.
Oxford's instructional model—known as interactive coaching—doesn't so much instruct a child as it does empower them to teach him or herself. Based on the science of cognitive development, this is a scientific approach to learning. At the time of inception, and even still today, this is a revolutionary approach to teaching and learning, and it had made a huge difference to struggling students for almost 30 years. Oxford Learning, 6270 Quinpool Road
---
Not to be confused with a yoga studio, Bhavana Yoga Boutique is best considered a "yoga emporium." Created to support all styles of yoga, Krista Watters' boutique has everything needed to support yoga practitioners–on and off the mat.
Offering bolsters, blocks, meditation supplies and books, Bhavana has whatever you need to extract the most out of your yoga experiences. Bhavana also offers Canadian-made clothing, Mala Collective devotional jewellery, plus workshops on Ayurvedic medicine - the sister science of yoga. Stop in to learn from Bhavana's on-site Ayurvedic practitioner and sign up for Ayurvedic workshops and talks on Aromatherapy as well as information on yoga classes offered in the community. Bhavana Yoga Boutique, 6252 Quinpool Rd
---
A truly iconic part of Quinpool Road, the Ardmore Tea Room traces its roots all the way back to 1958. An old-school style diner, the Ardmore offers classic breakfasts...starting at 5 a.m. every day. The staff at the Ardmore Tea Room believes in having a place that is absent of pretension; what you see is what you get, and the Ardmore is welcomes everyone to come in and feel comfortable enjoying their meal.
Closing in on 60 years of business, the Ardmore is one of the few places that can claim they've seen three generations of families grow up enjoying the Ardmore...especially their famous milkshakes. Ardmore Tea Room, 6499 Quinpool Rd
---
Motivated by a desire to provide delicious meals made from fresh, healthy and pure ingredients, Heartwood Restaurant embodies what a health food restaurant is meant to be. Open seven days a week, Heartwood owner Carrie Surette takes pride in having a vegetarian restaurant that combines a diverse, assorted menu with a warm and friendly atmosphere.
Quinpool Road boasts many locally-run businesses that offer some variety beyond the ordinary to Halifax, and Heartwood is no different. For more than 20 years, Heartwood has offered a welcoming environment to enjoy their vegan and vegetarian meals, including their Heartwood bowls: a satisfying combination of local organic greens, roasted veggies, seeds and a choice of sauce on a brown rice base. Heartwood Restaurant, 6250 Quinpool Rd
---
What happens when you combine locally-sourced ingredients, creative pizza combinations, gluten and vegan-friendly options plus a passion for all things pizza? You get Bramoso Pizza.
Closing in on a decade on Quinpool Road, Bramoso has a health-conscious and responsible-sourcing philosophy. Owner Dan Ryan believes that everyone deserves to eat wholesome food, delivered through truly inspired pizza creations.
Bramoso offers local wines and craft beer, as well as a genuine, yet open-minded approach to service, food and redefining what it means to enjoy a slice of pizza.
Bramoso is now expanding how to create an amazing guest experience, as they have completed the first stage of their craft beer bar. Check it out for exciting local draught, new menu items and old favourites. Bramoso Pizza, 6169 Quinpool Rd