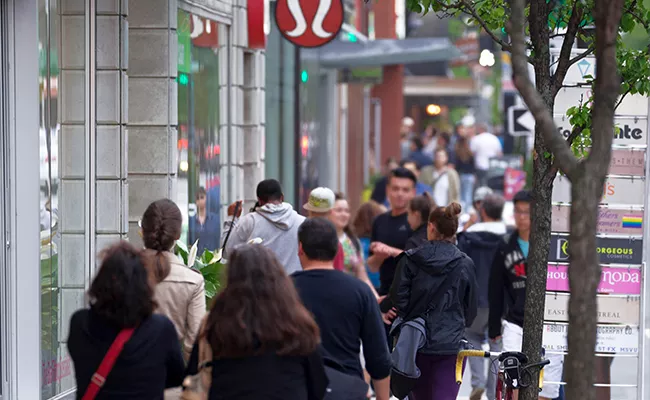 Spring is humming
With its core bookended by the award-winning Halifax Central Library and world-renowned Halifax Public Gardens, you can have a world of experiences when you step foot in the Spring Garden area. Grab lunch, do some shopping and stroll through the streets with friends. So go out and explore your favourite neighbourhood, and celebrate the uniqueness of Spring Garden. Halifax Public Gardens, Spring Garden Road at South Park Street, and Halifax Central Library, 5440 Spring Garden Road
---
Printed matters
Let's go back to the days of leisure, and meet up with some old friends along the way. Grab your minimalist pal Kinfolk for a trendy coffee, or pick up that Archie comic that used to bring you such joy. Take some time and get lost in one of the last independent newsstands in Canada, where you can satisfy that travel itch without leaving home. Atlantic News is the perfect destination spot to reconnect with those old flames of yours. With 5,000 magazine titles, you'll have a hard time leaving here without full arms. Brace yourself. Someone will have to physically drag you out of this adult candy store. They even have some of the best cards in the city. You'll take one look at Nova Scotian artist Rude Love's custom cards and feel like someone finally understands your humour. So why not spend a few hours to yourself? Your adventure is waiting for you. Atlantic News, 5560 Morris Street
---
On the Mappatura
Take a picturesque stroll through to the "other side" of the Public Gardens, where you'll find the enchanting atmosphere of Mappatura Bistro. Let yourself be transported out of the country with their Italian-inspired bistro flair that is sure to feed your soul. Their welcoming staff will have you smiling the minute you walk in, which is all part of your culinary experience at Mappatura. You'll start with the crispy calamari appetizer with spicy tomato, black olives and pickled vegetables, and feel like you could leave happy right then and there. But it doesn't end there—and you'll be itching in your seat to get a taste of your main course. You'll get a taste of Mappatura's bourbon and chicken confit crema on your ravioli, and want to bottle it up take it home. Leave some room, and finish your experience with a traditional espresso and a dark chocolate crème brulee...or two. Mappatura Bistro, 5883 Spring Garden Road
---
A world of tastes
Pop over to your home away from home, and let Pete's Fine Foods be your open pantry. Grab something out of the Best of Britain section, and then pair your dish with some of the local Nova Scotian offerings. At Pete's Fine Foods you can have the best of both worlds, and everything between—they've been bringing you the freshest and finest for 25 years. Stop into Pete's when you want to make your next unique recipe. From vegan options, local produce and custom cut meat, to finding those Marks and Spencer biscuits you fell in love with on your trip to England—there's nothing you can't find here. Pete's Fine Foods, 1515 Dresden Row
---
Fitness that's fun
Get funky with your fitness and dare to flip your world upside-down. Literally. After shopping at Pete's, head on upstairs to Studio in Essence to have a little acrobatic fun, all while increasing your strength, flexibility, and self-confidence. Studio in Essence has fitness classes for all ages and body types, and has highly qualified instructors who listen to your needs.
They can even help you bring fitness and fun together for a way to bond with your bridal team: Just book a pole dance, burlesque or aerial class for your next bachelorette party. But you don't have to be getting married to fly with your friends. Studio in Essence hosts birthday parties for adults and children, and offers youth circus classes and summer camps where your little monkey can put their energy to good use. Let your feet off the ground, and fly out of your comfort zone. Studio In Essence, 1535 Dresden Row, Suite 203
---
Join the pub
After a long day at the office, there's nothing like grabbing a co-worker, and sitting down at your favourite neighbourhood pub. The kind of place with a classic sitcom pub vibe, like The Fickle Frog Pub. One visit, and soon enough you'll find yourself recommending it for every gathering. At The Fickle Frog, you can let all of your worries slip away into your pint—the hardest decision you'll have to make is picking between 26 of the beers on tap.
The Fickle Frog is always hopping, and it never makes you wait until the weekend for the good stuff; they have plenty going on for all of you weekday crawlers. Get your amateur lungs ready for the Tuesday karaoke night, or put your liberal arts degree to good use with Fickle Frog Trivia Night Wednesdays. With their juicy burger deals, perfect pizzas and munch-worthy appetizers, there's plenty to hop about.
The Fickle Frog Pub, 5675 Spring Garden Road
---
The wheel deal
Are you looking to change your body? SPINCO Halifax is ready to help you create the change in your mind. Jump on your bike, and go along for the ride. One team. One bike. A 50-minute journey. SPINCO is reinventing the wheel to help create the change you've been looking for.
SPINCO is nothing that can be defined through a written text—there's a feeling that riders are overcome with the minute they walk through the doors. The lights are kept low, and the beats are as high as you'll feel from the endorphins. You won't be able to shake this feeling; it lingers long after the class is over.
Don't risk missing out—book your bike today for their opening day. Your spin family is excited to ride with you, and is waiting for you to say yes to life without limits.
5481 Clyde Street, Suite 104 (off Birmingham Street)
---
Your stylist awaits
This high-energy team is ready to give you an exclusive experience. Sit back, relax and let the stylists at Thumpers Salon do what they know best. Thumpers Salon has some of the leading stylists in the city, so no matter whom you go to, you'll be walking out feeling like a brand-new you. The stylists are accommodating and knowledgeable, and for all you curly-girls, you can trust them with your frizzy hair—don't worry, they can manage.
Thumpers Salon offers some of the most prestigious products from New York City, LA, Miami and London, and carries lines like Oribe, Bumble and bumble, R+CO, and more. The Salon has also set up online purchasing for their products, so you can take that post-salon confidence wherever you go. Bring your new 'do to the next level, take advantage of Thumpers' high-quality service and fall in love with getting your hair done all over again.
Thumpers Salon, 1445 South Park Street