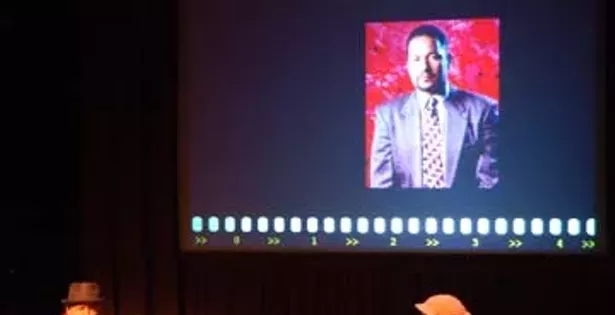 That name will probably only mean something to fans of The Wire as it was Clark Johnson's news editor character on season five. It appeared as if Hillary & I were among the only Wire junkies when Johnson filled in for Leslie Nielsen (who's 82!) today at the ACTRA Studio event. Nielson's brother, politician Erik Neilsen, passed away on September 4.
Wow. Not a bad sub at all. I'm a huge fan (got a little crushy during Homicide: Life on the Street when he played Det. Meldrick Lewis), and kicked myself for missing him when he was in town for Viewfinders.
Cory Bowles quickly jumped in to do the Q&A--a perfect match as both have done a lot of work with kids, and after watching Bowles' short, The Scavengers, he definitely has more directing in his future. And apparently he could be a talk-show host too.
I'm sure Hillary will have a lot to say, so I'll keep it brief, but I could listen to Munch (Richard Belzer) stories all day, especially when they involve apprehending real criminals.
You can still catch Johnson, who stars in Nurse.Fighter.Boy, Monday at 9:30pm, Park Lane. Then's he's off to meet with Natalie Portman's peeps to talk about her playing his mom, in a film Johnson's writing about his Civil Rights activist parents. What a surreal experience that would be.
Afterwards I had to ask Andrew Murphy about meeting Gorillaz--apparently it was an after-party at the Pan Am Lounge in Berlin, which used to be an apartment where flight attendants would stay in the 1960s and '70s. Apparently Damon and the boys were making the rounds, dressed in their parkas, bumming smokes. Love it. This is the life I need to lead.
Umm, ATV is reporting right now that Mark Ruffalo's in town, but I have to believe that is wrong-ong...right?