Snowballs
A strange but wonderful winter-inspired candy, this spongey, coconut rolled mallow ball is a step above the marshmallow Santa, but still basically a blob of pure sugar. Treat hack: Bob one on top of your hot chocolate, slice it up and use it in lieu of tape while you're gift wrapping or sub it for an actual snowball in the face of a snowless Christmas.
Barley candy
Also known as barley toys—because they are probably safer as a play thing than a food product—barley candy is throat coating and cloying, but super cute. Treat hack: When you inevitably can't finish your barley rocking horse, use its gluey texture in the place of a lint roller. Dog hair, be gone!
Candy canes
The Christmas equivalent of the Halloween kiss, most candy canes wind up crushed, broken and abandoned in the bottom of stockings or candy dishes. How could a candy so classic be so disrespected? Treat hack: Stash some broken bits of cane in your pocket or purse to mask your inevitable bad holiday breath (thanks, gravy/cheese ball/crab dip) or crush them and use as garnish on a festive cake, cookie or square.
Mince meat pie
Who else avoided these forever because they thought they were reindeer meat or something? Who continues to avoid them because they discovered they're actually just a date square in dessert's clothing? Treat hack: Though maple frosting and good pastry can save a mini mincemeat, re-gift them at an enemy's cookie swap or give them to your dad.
Ribbon candy
Better as a decoration than an actual sweet, this beautiful yet dangerous grannie candy is as nostalgic as it is a weapon of dental destruction. Treat hack: Use your ribbon's razor-like edges as a letter opener for you holiday mail.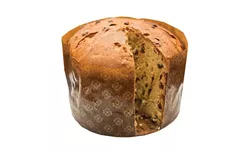 Panettone
A traditional Italian Christmas sweet bread that is sometimes wrongly dubbed a cake (so not a cake), panettone will do the trick in a dessert desert but is a little too close to fruitcake. Treat hack: Make a festive bread pudding, dip it in a hot boozy beverage or top it with a massive pile of mascarpone.