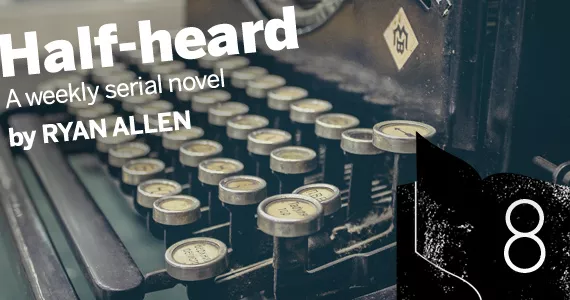 Welnot called Sarah, Alex and Trevor into the room for the meeting w/r/t matters of household concern e.g. the toilet bowl shit, Trevor walking in mumbling, "Isn't he the one who hasn't let anyone flush the toilet yet?" Sarah Toile walking in, this being her first time being seen around the house since the last disastrous Fondu Not Bombs night she hosted there, where 15 steampunks showed up, scoffing at the lack of latter-day 19th century steam-powered machinery manning the open-to-all event and stormed out, leaving a thick trail of lamp oil behind them. Gertraud looked annoyed to be called from her bedroom and stomped down the unlit, rug-ripped and sagging stairway to the main level, cutting out what at first caught one's eye as a snowflake, but on closer glance of the nuances and intricacies of the corners, cuts and turns, was a needlessly convoluted web of mathematic entanglements, arranged as such to be a visual aid for a presentation in her upcoming Postmodernism In The Americas class. Sarah looked at Welnot standing at the living room's entryway. He was freshly soaked all through his whites from a game of badminton on the Common, flush in the face with Rusted Root's "Send Me On My Way" hissing out of his tinny earbuds.
And outside at that moment, burning down Bloomfield toward Gottingen, a group of hair-gelled alphas drive by in a flame-decaled Jeep like they're living in a summer somewhere else, the plastic covering still peeled down like true boys of summer, and their sleeves rolled down against the night-time chill of late August, screaming, "top-down Thursday, mooooth-eeerr-fuuuuck-eeers."
Alex Stuart falls into the room last, avoiding any eye contact with Welnot and goes toward the kitchen chair in the corner. This was the one Welnot wanted. This was his perp. "Yeah, you sit your ass right down, Stuart," Welnot thought to himself. "You sit Right There and listen to what I have to say, you self-absorbed, egotistical, oh shit, no, what?"—at that instant, right when Welnot was stockpiling his salvo of accusations, theories for a full-blown character assassinations, Alex Stuart turns his chair backwards and sits with the chair's back against his chest, just like all the really cool guys did on TV shows when they were kids. Welnot winces. He feels his conviction start to wane and that little monster inside of him that his badminton mentor Piercer Shostakovich tells him to unleash on the little pretties who make his world bullshit starts to cower. And then Stuart affects that disenchanted James Dean-duckface pout and rolls his eyes at the whole room and begins looking at his nails and objects in the room in that trying-to-look-deep sort of way people do at parties. "Oh shit, look at that guy, how can I go up against that?" he thinks to himself.
The last time the Northwood occupants shared the same lamplight was several weeks prior for the household book club that, if you asked anyone from Bong-yetti to Sarah or Gertraud, Welnot totally put the kibosh on by making everyone holding their copy of To The Lighthouse acutely uncomfortable, when he started to brandish and wield his thoughts and opinions on Virginia's verbal labyrinth like stones, hurling them with a malicious intent across the room towards Alex—and high over Bong-yetti's head in more ways than one, Trevor having only listened to 45 seconds of the audiobook before he turned on campus radio to hear the weekly "Describe That Fart To Me" call-in show, and subsequently, calling in—"Boy, the ripper I pushed out this morning sounded like a cow being thrown into a wood-chipper inside an airplane hangar."
Alex (though no one else knew this) wanted to really come out swinging at that book club meeting and one-up everyone in the room. Rather than just doing the usual chiming in with the last three words the person speaking said, nodding yes, yes, yes to anyone who said a word with more than four syllables and making serious-guy finger-steeples to look contemplative when he really was trying to stay still amidst the absolute boredom of the book club bullshit. So he stayed up late on his iMac searching for academic essays, memorizing all the examples of which the story was a watershed moment in the history of feminist writing, how Freud's theory that anger is the result of the ego's struggle to maintain itself relates to Woolf's writing process, et cetera.
All in all spending as much time researching other people's thoughts on the work as it would have taken to read half of the book. And that's when Welnot really started to come undone and become obsessed with Alex's downfall, you could probably say.
The new chapter of Half-heard is published in The Coast—newspaper version—every Thursday. One week later it is published here online. So it's easy to catch up online, but best to stay ahead in print.