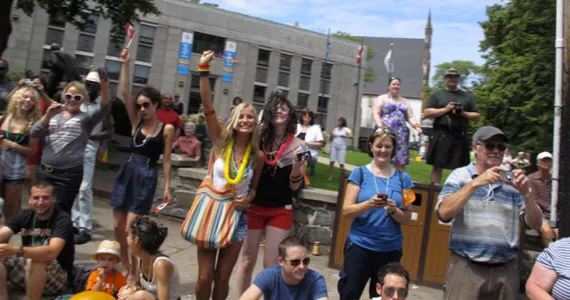 Halifax Pride is the biggest queer celebration east of Montreal, rousing folks out of the woodwork to celebrate.
Tina Scanlan and Ramona Westgate have been making the trek from Pictou County for several years.
"It's the only time of year that I don't feel like a minority," says Westgate. "I believe in and support rural Prides, but it's still very much a political statement. The public events always have a smaller crowd and I feel as though I'm on display. I'm always more relaxed at larger Pride festivals and feel more free to actually celebrate who I am."
Originally from Pictou County, Scanlan grew up relating to the city from a rural vantage point. "I grew up here, so I never really thought about being gay in a small town as any different," she says.
Westgate, who was raised in Boston, doesn't find being a lesbian couple in a small place much different than anywhere else, unless they want to hit the town.
"For the most part it doesn't affect our daily lives," says Westgate. "I guess the primary disadvantage is you can't go out to a club and dance together without feeling like you're giving a private show for the straight guys in the bar. So generally we don't. We head to the city if we want to go dancing."
After five years together, the couple have travelled around Atlantic Canada scoping out various pockets of Pride. Halifax is always a highlight.
"We have both been to rural Pride events in Atlantic Canada together," she Westgate. "I went to Boston Pride this year as well. I was surprised at how although the parade was bigger, it had so many more churches, community groups and schools involved than here." --Shannon Webb-Campbell