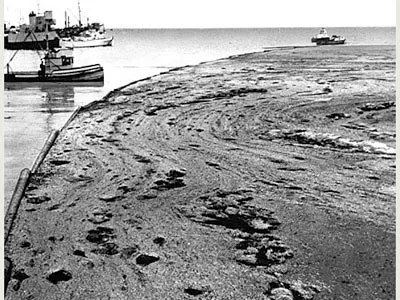 1969 Santa Barbara oil spill
Earth Day was inspired by the 1969 Santa Barbara oil spill. Senator Gaylord Nelson was outraged---little was being done politically to change the oil industry. Perceiving a lack of knowledge as the problem, he organized Vietnam War protest-inspired teach-ins attended by 20 million Americans.
Nelson's mistake was assuming that education automatically creates change. It can, but only if the students learn how to turn knowledge into action.
Earth Day and its organizational infrastructure has since grown into its own movement, existing separately from day-to-day environmentalism. By 1990 there was a high-profile national foundation organizing Earth Day. Hewlett-Packard---one of the world's worst polluters---had a spot on the board, the start of a corporatization process that continues today. In 1990, Earth Day Canada was founded. It relies heavily on corporate funding, especially from Toyota, the world's largest car maker.
Word on the street is the creation of our most vocal local environmental group, the Ecology Action Centre, was inspired by Earth Day. But two of the organization's founders, Cliff White and Brian Gifford, don't remember it that way.
"I don't remember that Earth Day was an issue and [Gifford's] memory is the same," White says. Like Earth Day itself, EAC seems to have bloomed from the general growing concern with pollution and waste in the early '70s. "Brian had just taken a course at Dal called Living Ecology, which required action after the course was finished."
Motive met opportunity in funding for innovative student projects and a paper mill interested in using recycled paper. EAC's first project was collecting discarded paper.
From one recycling project stemmed, within a decade, a well-staffed organization "with huge credibility," as Howard Epstein puts it. The Halifax Chebucto MLA was EAC's executive director in the early '90s.
As for the city government, the 1996 amalgamation of HRM was "helpful with public transit, regional solid waste management and the concept of Harbour cleanup," saays Stephen King, the city's former manager of sustainability. "Maybe just regionalizing some of the big ticket items [would] have been a better approach."
Whether that's true or not, it's the kind of structural question that has enormous impact on our future viability. But with Earth Day's usual focus on individual action, as opposed to effective organizational action, those kind of issues typically get lost during Earth Day.